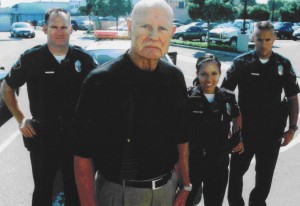 In the wake of a rolling tsunami of scandals, cover-ups, and abuse of its own citizens I have been hearing increased calls to disband the department altogether and bring in the Orange County Sheriff's Department.
Apparently the issue is not just FPD-fatigue and the brutal costs their misbehavin' is going to cost the taxpayers; nor even police misconduct in general – since the OCSD has had its own share of bad behavior in recent years.
No, the prime motivation will be the comparatively low cost per capita that the OCSD charges its contract city partners for varying levels of service. Some have said that the City could easily save the General Fund $10-15 million a year, and that's nothing to sneeze at.
Former Fullerton councilmember and current County Supervisor Shawn Nelson would be in a perfect position to help broker this deal
So could we be seeing the streets of Fullerton patrolled by guys in green? Perhaps. Why not? The current police force has disgraced itself so badly in the past few moths that from a public relations standpoint there would never be a better time.