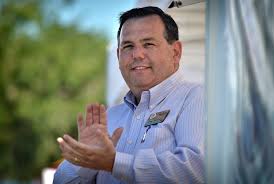 UPDATE: As Mr. Fullerton Rag correctly points out Jesus Silva is not up for re-election in 2018. He was elected to a 4 year term last fall. If District 3 were on the ballot in 2018 then Silva would have to resign his current seat (and term) to run in 3 as a non-incumbent or he would have to move to a different district to keep his job in 2020. I think I have that right.
Mr. P.
Councilman Greg Sebourn lives no where near Councilman Jesus Silva. And yet thanks to the gerrymandered district map cooked up by the downtown bar owners to dilute a single voting block downtown the two find themselves both in District 3. And that's because the map was approved by the City Council – including Greg Sebourn.
So what's the problem? Sebourn is up for reelection in 2018 and Silva just got elected. If District 3 were chosen as a district open for elections next year then Sebourn could run against Silva as an incumbent. But if District 3 were not up in 2018 then Sebourn would have to move to a district that was in order to keep his job.
Drum roll: in a 3-2 vote last night the council decided that District 2 (where Doug "Bud" Chaffee resides) and District 5 (where no council persons currently live) would be up for election in 2018. Chaffee and Silva were joined by Bruce Whitaker in this strategy. So Sebourn has no place to sit when the music stops in 2018.
Since this vote will be seen as deliberately undermining a fellow Republican and erstwhile ally, Whitaker's got some explaining to do. Was this a quid pro quo for Jesus Silva's unusual support of Whitaker to retake his place on the OC Water District Board? That's what some cynical folks around town are saying, and the suspicion fits the facts.
Personally, I'll be glad to get rid of Sebourn, who, frankly just isn't very smart and isn't very principled. And that's a bad combination. Since his election in the 2012 Recall he has been an almost complete disappointment, trying to please everybody and in the end making no one happy.