A guy named Mike Ritto writes a periodic column for our Friends at the Fullerton Observer called The DOWNTOWN Report that ostensibly deals with happenings in our economic sinkhole known as Downtown Fullerton, or DTF, for short.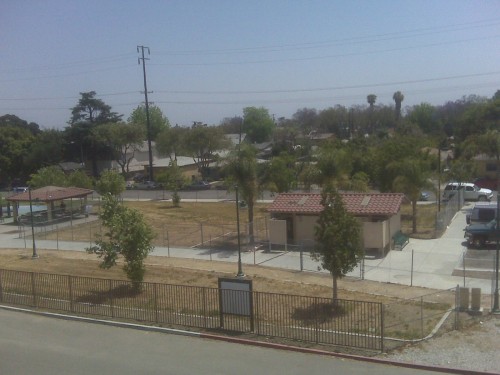 In his latest piece Mr. Ritto promises A Brief History of Union Pacific Park. Hmm. This might be interesting, I thought. And so it is, but not for what it says, but for what it intentionally leaves out. It begins talking about the Union Pacific RR, the Santa Fe and even the Pacific Electric. Ritto eventually gets around to the park itself:
"…remnants of that UP line are the fenced-off, such as Union Pacific Park just to the West of the former station, where the tracks used to run.
That neighborhood needs a park, and as the residents look through the chain links and see, finally, grading and other preliminary work that is taking place right now, they know it is on the way. Approval of the park revitalization was covered in our August 7 issue. In addition, we are following developments in the proposed Union Pacific Trail, which would be an open space trail between this new park and Independence Park to the West."
Somehow the UP Park history has become no history at all, just a mysterious space with a fence around it.
Of course Ritto omits mention that the UP Park was a park on which the City spent several million dollars in land acquisition and construction, and that the City closed down first because of toxic contamination, and then because of abundant crime. This latter fact gets no mention because Ritto is insistent that "the neighborhood needs a park" and remembering that the last effort failed would be extremely awkward – so let's just forget it. Like his Observer pals he repeats the nonsense that the Trail to Nowhere is still a real thing.
To perpetuate the propensity for misinformation of which the Observer is (in)famous, Ritto remarks that approval of park revitalization has occurred, as reported in the Observer on August 7th. What really happened was the Parks Commission voted to recommend the the Trail to Nowhere to the City Council. The article itself, despite the erroneous headline, is really just a propaganda piece for the now dead Trail to Nowhere and has nothing to do with the UP Park site.
Fullerton Observer readers are often told that the effort is an all-volunteer affair, as a sort of apology for bad reporting, opinion masquerading as news, factual misrepresentation and basic spelling mistakes. The Kennedy clan has been doing this for forty years or more and there's no likelihood that this will change.