Although its advocates keep whacking it like the proverbial dead horse, the near-disaster known as the Trail to Nowhere isn't happening. We can thank Fullerton City Council members Dunlap, Jung, and Whitaker for pulling the plug on "Phase II" of the so-called Union Pacific Trail back in August. The proposal made no sense: it had few, if any potential users, ran through an area of heavy industry, was and would never be connected to anything else, cost nobody knew how much to maintain, didn't even line up with its alleged Phase I, and cost $2,000,000 to build (if you can trust a City budget).
Perhaps most importantly, the council majority had previously requested that various trail options be considered in the context of a wider area plan. City staff essentially ignored that request and began a behind the scenes effort to drum up support for the original plan – an act of insubordination, really.
At the time no one told the three councilmembers that there was adjacent property with trichlorethylene contamination in the 300 block of Highland Avenue and plumes had drifted south, even though this information had been in the City's possession for decades. Fortunately, Messrs. Dunlap, Whitaker and Jung had plenty of other excellent reasons to deny the grant funding for its intended purpose.
Another thing the City Council didn't know was that if the grant application contained "false representations" – either intentionally, or through lack of reasonable effort – the grant could be rescinded and the State could demand whatever of its money had been spent. Here's the relevant paragraph in the grant acceptance agreement: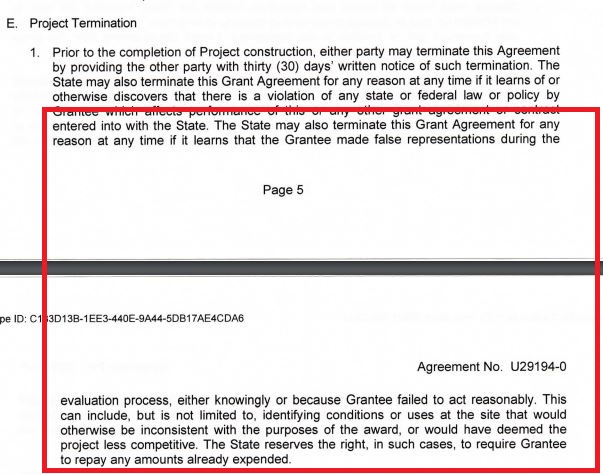 In other words, had contaminated soils been detected on the "trail" the State may well have been inclined to demand whatever had been spent, particularly in light of the fact that the grant application falsely stated that environmental testing had been performed in 1998 and was not an issue.
We know this isn't true because in the early 2000s the UP Park (after construction) was found to be contaminated, requiring mitigation; there is no way that the "trail" was somehow tested, but not the park site. We also know that very recent PRA requests identifying this specific issue returned no relevant documents.
Of course the State could have revoked the grant on the basis of the fraudulent application alone, had they discovered the misinformation, a municipal embarrassment, to be sure.
Fortunately, for the City employees who manufactured the grant application and snuck it past an incurious City manager, there will be no repercussion, not even a mild "talking to." And fortunately for the rest of us, the City won't be saddled with a stupid white elephant of Phase II that would have ended up looking an awful lot like Phase I.
So everybody should be happy, right?