Mostly predictable banality and stupidity mark events in Fullerton political opinion, but every now and then something unexpected happens. In this case an opinion piece in the Fullerton Observer that takes the police department to task for its hyperventilation rap-riddled recruiting video that begins with loud, dramatic music accompanying a fake chase scene through downtown Fullerton that ends with a canine grabbing hold of the bad guy. The author complains (rightly) that the video obviously sends the wrong message to potential recruits who may be more interested in violent video games than in community policing.
Now juxtapose this video (especially the dog part) with the recent news out of the City Council closed session that announced a $8,600,000 settlement with the family of Hector Hernandez, who was shot a few years ago by Jonathan Ferrell of the FPD for defending himself against one of their attack dogs.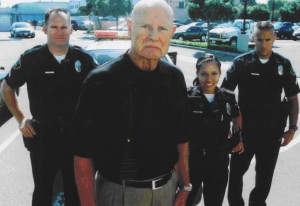 For years FFFF has been letting folks know that the Fullerton Police Department never reformed itself in the wake of the Chief "Patdown" Pat McKinley's reign of error that culminated in the murder of Kelly Thomas. New Chief Mike Sellers took a vacation during the Kelly Thomas protests and bugged out on a stress leave and (tax free) disability retirement. The next Chief, Danny "Gallahad" Hughes – who was neck-deep in the Thomas killing cover-up – said we were misinformed, even as his boys gave drunk-driving City Manager Joe Felz a ride home, warm milk and a cookie. His successor, David Hendricks was arrested in Irvine for assaulting a paramedic and had to hit the road.
The current occupant of the Chief job, Bob Dunn, was the former spokesman for the Anaheim PD during the spate of cop shootings that incited riots. He's the guy responsible for the recruiting video and its awful message to prospective, young Fullerton coplets. Dunn, too will be leaving soon after a short tenure – just like his immediate predecessors. Hopefully the new Chief will be more inclined to de-emphasize confrontation and escalation, armored vehicles and SWAT deployment as policing strategies.