Friends probably remember that FFFF has been relentlessly critical of the dubious scheme approved by our City Council to underwrite a downtown boutique hotel and uber-dense apartment project on a parking lot owned by the City and used by Metrolink commuters.
Here's a reminder: three councilmembers Bruce Whitaker, Shana Charles and Ahmad Zahra voted to sell this property to a developer for a mere $1.4 million (less site material removal) while simultaneously time jacking up the value of the land by approving density 2.5 times the limit specified in the Transportation Center Specific Plan. It was a gift of public funds at least ten million dollars.
Here's the fun part. The original and completely unqualified baby daddy of the project, Craig Hostert, didn't have the wherewithal to make the deal. After years of failing to perform on his Exclusive Negotiating Agreement and numerous extensions, Hostert's West Park Investments, LLC joined its non-existent forces with TA Partners Development of Irvine, Johnny Lu, proprietor.
Mr. Lu, the new face of the project, appeared at council meetings to seal the deal with a ration of gobbledygook bullshit.
Now it appears that Mr. Lu may not have been the best choice of partner according to the Real Deal Real Estate News.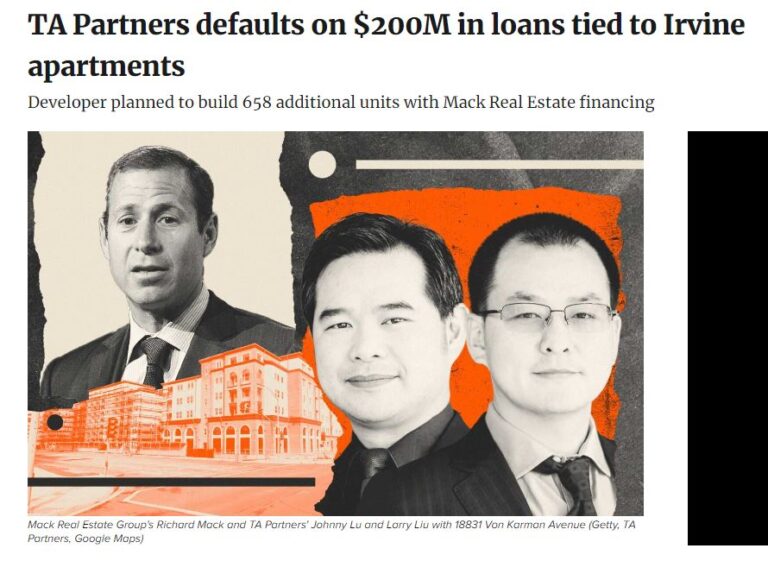 It seems that Johnny has gotten himself in over his head on two projects in Irvine, including second bridge loans that he has now defaulted on. And of course Sunayana Thomas, Fullerton's crack "business development" director seemingly failed to inform the City Council of Mr. Lu's impending financial embarrassment, something that should have been revealed in even a cursory perusal of TA Partners' asset to debt ratio and its balance sheet.
And then, of course there is the problem with the completely incompetent concept of rushing the approval to transfer of title to the land, before the deal had received final approval.
By now the Council has possibly, though not necessarily been informed by the Fullerton City Manager, Eric Leavitt, of the problem, but where does the deal stand? Title to the property has been transferred from the City to and through Lu's companies*, presumably for the original sale amount. But if TA Partners can't perform, will the City get its now very valuable property back, or will it be encumbered by bankruptcy receivers? Will the City, in order to save face as it always has, permit Mr. Lu to assign his rights and interests to another party as a face-saving strategy? If that happens, will the original bad idea still go forward, or will the Council approve something even worse as a sop to a new developer so to avoid admitting their horrible mistake in the first place?
You can try asking Whitaker, Charles, or Zahra, the architects of this inexcusable and completely avoidable mess, but don't hold your breath waiting for a response.
* Topic of future post