Fullerton Puts Favoritism over Fire Safety
We've received, via a Public Records Request, some of Community Development Director Ted White's text messages with downtown bar owner Joe Florentine. It looks like Mr. White is working for Florentine which explains a lot: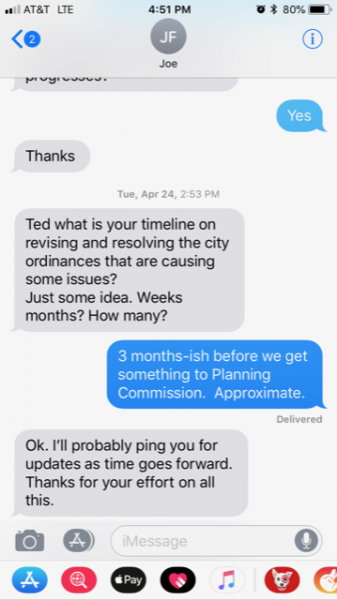 To clear this up, those "issues" that Mr. Florentine is talking about include all of his violations of the municipal code and his Conditional Use Permit – specifically his illegal refusal to install fire sprinklers.
Florentine is in gross violation and Ted White is pushing a big change to the municipal code through council in order to facilitate Florentine's bad behavior.
While Mr. White likes to talk about how hard his job is, how impossible enforcement is and how outdated it is to look at "lumens" regarding lighting – he doesn't admit that fire safety isn't on his list of priorities – nor is actually doing his job.
Florentine's properties on the corner of Harbor and Commonwealth, the largest bar / nightclub in all of Downtown Fullerton, as far as we can tell, is the ONLY business given a pass on fire and life safety issues.
We also have it on good authority that Mr. White tried to illegally INCREASE the occupancy at Florentine's properties, in violation of the law, while ignoring the fire sprinkler issue that has been ignored by staff for 10+ years. Why? Why potentially put more people at risk?
And Mr. White isn't alone in his belief that one man is above the rules and laws in Fullerton.
Every single year the Fullerton Police Chief, currently Robert Dunn, issues Florentine a Live Entertainment Permit threatening to enforce the applicable laws/permits. And every year the Chief does nothing but wield his rubber stamp for downtown law breakers. This is worse than the old joke of the UN saying "Stop! Or we'll yell 'Stop!' again!" because our Chief can't even be bothered to use the "S" word.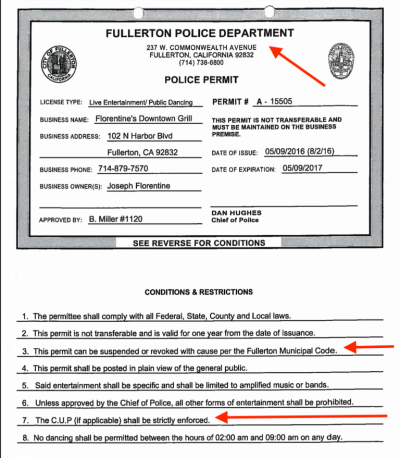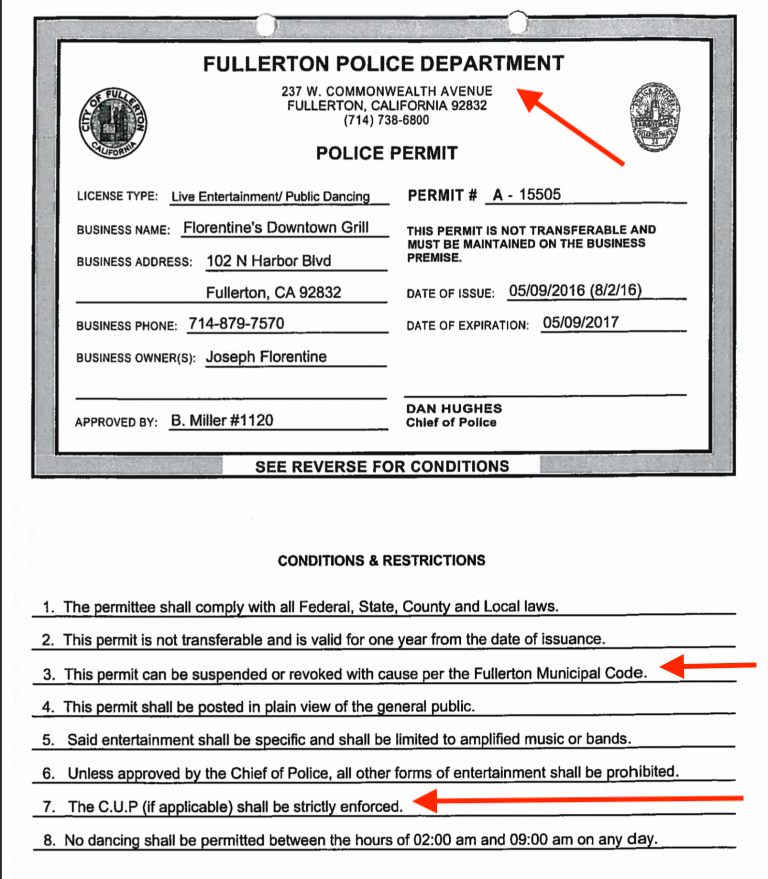 Every single year the Fullerton Fire Department does a "Life Safety Inspection" of Florentine's properties and every year they ignore the lack of fire sprinklers because their rubber stamp is as useless for safety as the Police Chief's is for enforcement. Maybe these heroes want more people to be put at risk?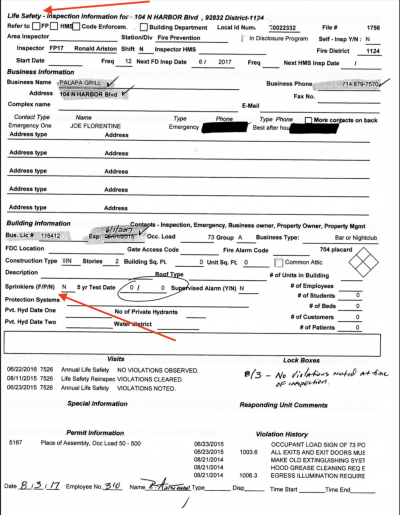 Every year our Planning Commission & City Council promise to look into Downtown and to try to "fix" the problems and yet Joe Florentine has operated the largest night club without FIRE SPRINKLERS all while our Planning Commission and Council do nothing but make things easier for the bar owners.
Florentine's CUP should have been revoked in 2009 before he passed a year of non-compliance but here we are in 2019 and our bureaucrats, under the current authority of City Manger Ken Domer, sit idle and make excuses while telling us lies and going to bat for bad actors. Why?
We here at FFFF aren't anti-downtown. We're not anti-bar.
We're anti-cronyism. We're anti-corruption.
We're tired of moneyed and arrogant jackholes like Joe Florentine running roughshod over the rules – the very rules that are used to punish other less connected businesses.
We're tired of his "Move to Podunk" arrogance and cavalier attitude. Is every business that complied with the fire sprinkler law going to get reimbursed for their costs? Is the city going to cover the liability should another Florentine business burn to the ground?
We're tired of the Police, Fire Dept, Planning Commission, City Manger and City Council all being complicit in cronyism and corruption. All being too lazy or too corrupt to do their jobs or even ask tough and pointed questions.
We're tired of guys like Ted White telling commissions and council how hard his job is when all he'd have to do is send a letter from his cozy desk to solve a life safety issue. Why can't he do that? Why is one bar so important in such a saturated area? If Ted White sent one letter demanding action – on a life safety issue that his office has ignored for over a decade – and Florentine refused to comply then a single bar in Downtown would lose a single Conditional Use Permit. Is that going to break downtown? Is that going to further break our already broken budget?
Is Joe Florentine so important that every single city agency – code enforcement, police department, planning commission, city council, fire department, community development, building department – all of them need to turn a blind eye to blatant acts of arrogance and rule/law breaking?
Aren't you, the people of Fullerton, tired of this disparate enforcement? This favoritism? The arrogance on display?
If so then say something. Demand action.
Ask tough questions. Demand to know why life and property in Downtown can be put at risk so one guy can profit.
Tell your council that you're tired of their lies and their handouts to the connected and favored businesses. Tell them you won't vote for them or their allies if they continue to arrogantly pervert the system that is supposed to represent all of us – not just those of us with the means to purchase their strings.
Stop playing ball and starting holding feet to fires. Otherwise your city isn't yours. Fullerton should belong to the people of Fullerton and the future and it's long overdue that our government started acting accordingly.