The Pinewood Stairs Pintrest Fail
Readers here will be familiar with the Pine Wood… excuse me, the Exercise Stairs, that were thrown up at Hillcrest Park recently for the low-low price of over $1.6Million.
Let us take a tour of these stairs:
After walking the stairs here's the first thing that came to mind:
This is one of those "Know Your Memes" moments. The above example is a famous photo from a typical type of #Fail knows as "Nailed It" where you try to do something that a professional clearly did right and just, well, fail.
That's what must have happened with the Pine Wood Stairs. I can come up with no better explanation.
The worst part of the tragic fail that is the "Exercise Stairs" is that we paid professionals for this atrocity. At least normal "Nailed It" fails are done by amateurs aspiring to mimic the awesome that is clearly professional. Here we paid self-professed professionals in the city to allow self-professed professionals in design and construction to build us something of such quality that an amateur should be ashamed.
Allow me to demonstrate how bad this #FAIL really is with photos considering that these stairs are open to the public and are being ever so slightly used.
First let's look at the safety up top:
Why is there a gap between the stairs and the fencing to keep people from falling down the hill? Each set of stairs up top has this gap on one side and zero fencing on the opposite side for no apparent reason. Why does this fence not run the whole length of the edge of this particular hill? Is it only okay if people fall in a specific area? Does the gap make the fall safer?
The fencing isn't exactly a model of proper safety itself:
Why are these cables just exposed for people to run their hands along and into?
The same type of cabling runs down every set of stairs and if we follow the cabling down the stairs we can see more of this sort of shoddy work. In about 6 different areas by my quick count (only using 2 of the 4 staircases to nowhere) I found uncapped ends of wires protruding through the wood.
Unfinished because?
Those two examples are not alone as there are several more like them. This is what we paid "professionals" to complete and what the city apparently signed off on as being A-Okay and good enough for government work.
When the cables ARE capped properly this is how they look in several sections: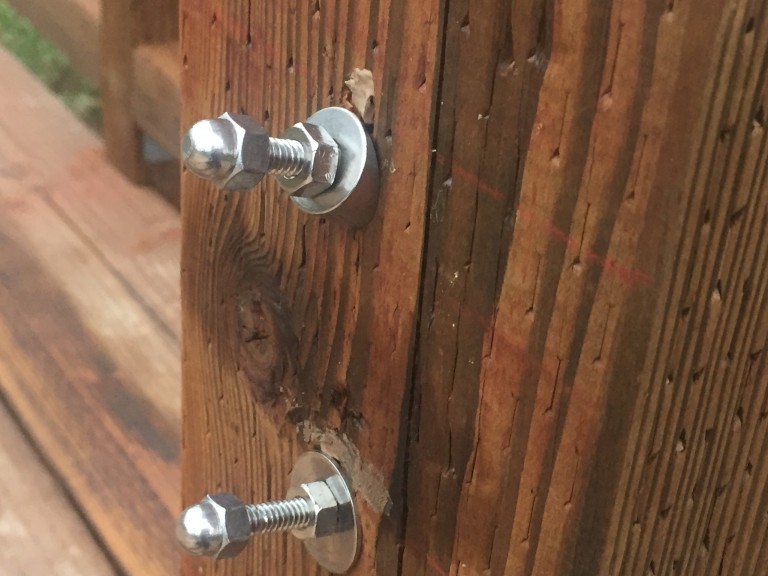 Some are flush, some are rushed. I guess measuring things properly would have pushed this project over budget? What possible excuse is there for this level of shoddy?
One good thing is that the contractor used quality wood: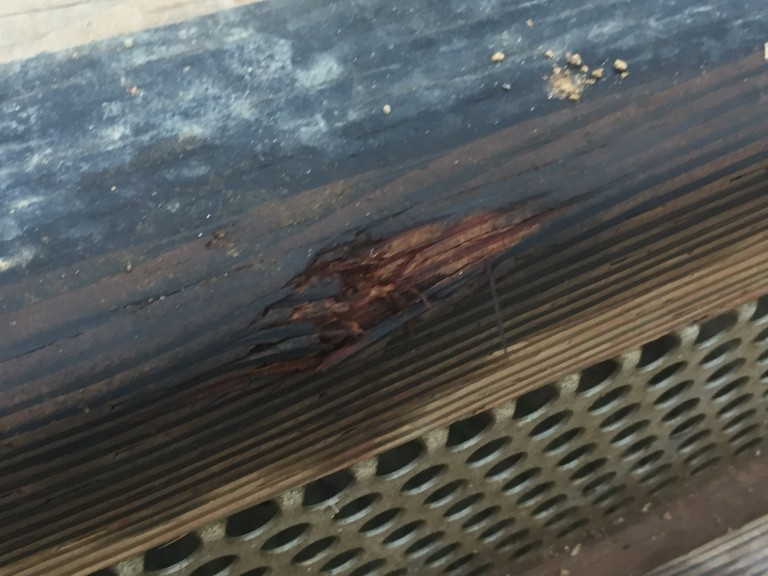 Okay, so the wood isn't of high quality and is chipping and cracking in several areas literally 3 days after the "Grand Opening". But hey at least it's treated properly so it won't immediately start to mold and rot:
Alright, so some it might already have some mold growing on it. It's not all over… yet. That's good I suppose.
I tried to find some positive with the construction of this project and I think I figured it out.
I'm positive the city knew that tagging would happen so they'd put up cameras or at least know to use material that would be resistant to tagging. Seriously the benches and tables at the top of these stairs are ALWAYS tagged so the city wouldn't be so stupid as to leave these unmonitored and thus an easy target: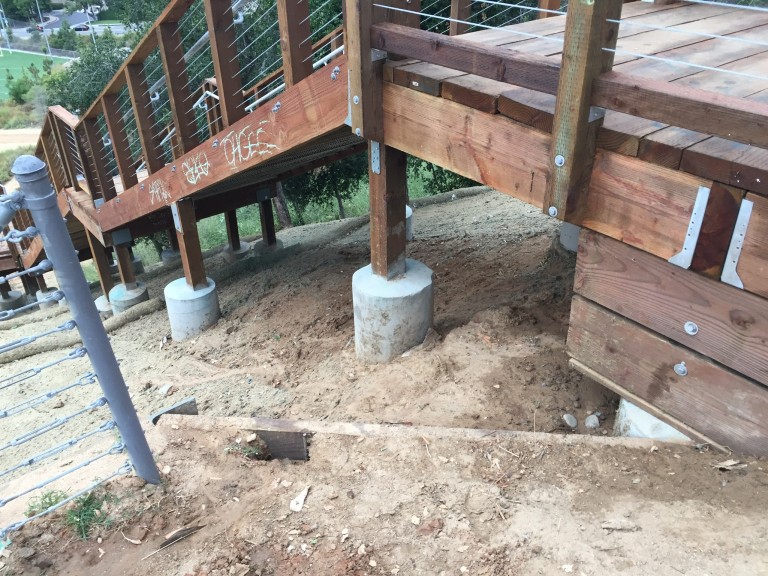 Oh.
Well then. I suppose those warning signs about police watching the park aren't exactly… accurate.
There was zero chance these stairs wouldn't be tagged immediately. Zero. As I mentioned the benches at the top of these stairs are ALWAYS tagged and this is a go-to-place for illegal drinking and drug use. There are countless beer bottle caps on the ground littering this area which goes to show how well this area is cleaned and maintained.
Speaking of cleaning and maintenance I would like to show the care with which the contractor and city took to dispose of the refuse from the project:
This pile of garbage is just sitting in the park between stair levels. How do I know it's from this construction? Because those pipes are stamped with the exact same "Made in Korea Hyundai" marks as are on the railings on all of the stairs. See the metal brackets on the top left? Same as the supports holding the railing to the steps.
Who knows. Maybe the city/contractor left this pile of rubbish so the city would know where to put the rest of the stairs in short order.
The more one looks at this project the more it just looks like a DIY project gone wrong and hence the "Nailed It" meme up above.
An important thing to remember is that the only net positive that we Fullertonians get from all of the High-Density developments around town is what's called the "Park Dwelling Fee". That's a fee that developers pay per unit to build here. That money is earmarked essentially for Parks and THIS is how the city is spending it. On DIY-Quality projects that are falling apart within days of being opened.
Don't like all of the high-density? Add this insult to that injury.