The intelligent decision by Fullerton City Councilmembers Whitaker, Dunlap and Jung not to waste public money on the abysmal "Trail to Nowhere" has resulted in high dudgeon and angst among Fullerton's unthinking Observers. They have stirred up uniformed kids (interns they call 'em) to include it in a video about Fullerton's crumbling infrastructure – missing the rich irony of a city unable to take care of the infrastructure it already has. They have instigated other kids to create a group calling itself "People Above Things" who will bring protest to the City Council meeting because somehow a useless trail is people and not a useless thing.
Here's a fun anonymous essay that appeared in the latest paper version of the Fullerton Observer full of sturm und drang, confusion and all het up emotion: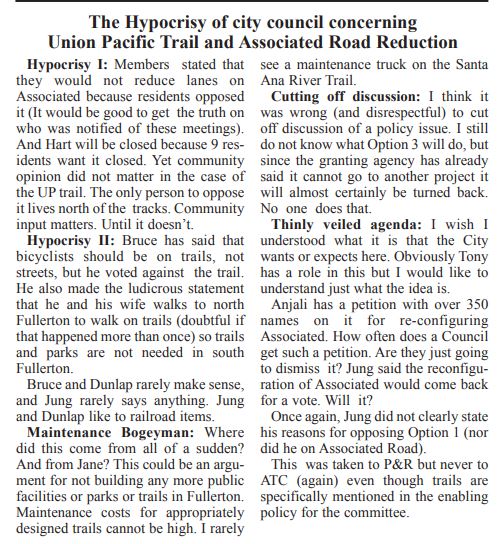 What a silly mish-mash of unintelligible nonsense. I notice the reference to "Jane" by which I believe the author refers to a Jane Rands, who stood up and gave a very commonsensical address to the Council, but commonsense is not a highly respected commodity among Observers. What is "Hart?" Who is "Tony?" What on earth is the connection with Associated Road on the other side of town?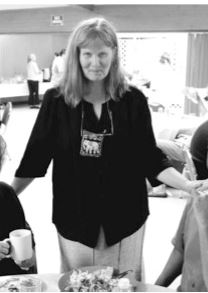 I can't blame the author of this illiterate screed for wanting to remain anonymous, but she didn't remain anonymous for long. On the Observer blog the author revealed herself: Sharon Kennedy, the long-time proprietess for the Observer whose "news" efforts never failed to read as confused editorial gobbledygook.
It's clear that the Observers, Yellowing and Pink, will cling to this issue and try to nurture it despite the fact that it's over and done with and the public at large, if properly informed of all the facts, would overwhelmingly applaud the wise decision of the Council. Facts are the perpetual bogeyman of the Fullerton Observers who peddle emotion, not reason, and promote waste, just so long as the goal satisfies their drive to support patronizing the lower classes, whom they believe depend upon their philanthropic gestures with everybody else's money.