In case you weren't paying attention (and care), our beloved County Board of Supervisors approved a new district map this week.
All sorts of fun and games took place to get this little self-serving project done, and all sorts of political angles were contemplated, no doubt. Central county actually got a new district number altogether, while other districts morphed to suit the tastes of our political lords and masters. Here's the map: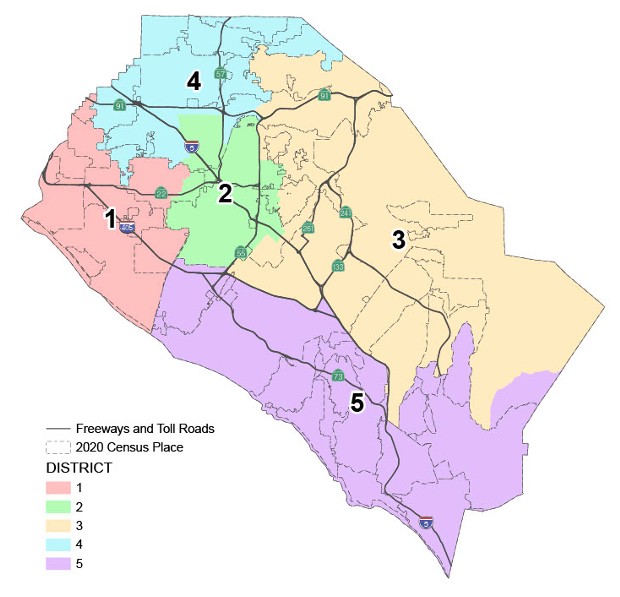 Community Pride and Forward Vision identifies Stanton as a place where innovation and pride in the community are an important aspect of life. Residents enjoy major retail opportunities, active civic volunteers and business-friendly City organizations.
I wonder if there are going to be any legal challenges to this map. It has flaws. The idea of putting Mission Viejo in the same district as Yorba Linda seems absurd. Costa Mesa is now in District 5, but it's a damn long haul from South Coast Plaza to the real south coast at San Clemente. Irvine is divided between districts and so are Garden Grove and Orange; Anaheim is split into 3 separate district pieces. Buena Park and Fountain Valley are reunited.
But any real legal challenge would have to come from injured "communities of interest," which means aggrieved minority groups, mainly. District 2 looks suspiciously like a "packed" Latino enclave, but this would probably be to the liking of residents there who will finally get a non-Vietnamese-American Supervisor.
In our 4th District we can be sure his minions were weighing the likelihood of potential challengers to Chaffee. There are none in either Stanton or Buena Park. Losing southeast Anaheim was no political loss.
So it remains to be seen if anybody in north Orange County is willing to take on an incumbent Democrat – no matter how vulnerable (and useless) he is.