Fitzgerald's Fiduciary Fictions
The Case of the Disappearing/Reappearing Balanced Budget
Many of you may recall that during my campaign for Fullerton City Council I wrote an Open Letter to Jennifer Fitzgerald. I'd like to revisit the issue of Mrs. Fitzgerald's oft-repeated myth of a balanced budget.
On her website as well as on campaign literature she made the point that our budget is balanced. I offer as evidence a screen-grab from her campaign website from 22 October 2016;
I won't re-litigate the whole letter here but suffice it to say I wasn't happy about her Public Relations spin on our overspending by at least 43 Million Dollars during her tenure.
I'm bringing this all up due to agenda item #2 from last night's Council Meeting. The council voted 5-0 to receive and file the Comprehensive Annual Financial Report (CAFR) for the fiscal year ending 30 June 2016. Inside the CAFR was one little nugget really stood out to me when reading the report.
Let's see if you can spot it;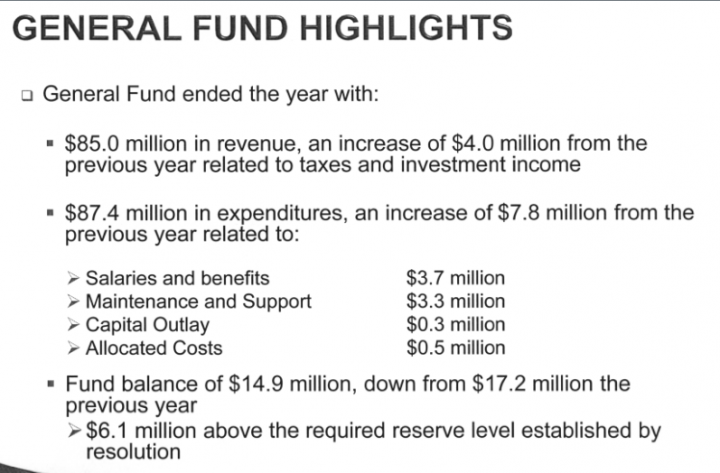 Did you spot it?
Okay, I suppose I can give you a hint; we spent more than we received. See it now?
To make matters worse our friends over at FACT asked Marc Joffee, a notable public finance expert, to run Fullerton's latest financial statements through the California Policy Center's "Fiscal Health Index". After plugging in the numbers & spinning the nobs, Mr. Joffee noted a significant reduction in Fullerton's score due to "a drop in the general fund balance due to the 2016 deficit."
A deficit?
We can't have a deficit. Mrs. Fitzgerald told us that we had a balanced budget. For goodness sake I have a screen-grab from her website. Our budget is so balanced that Jan Flory even rebuked me at a council meeting over this issue. It's balanced!
Why just this last year at the State of the City talk at C.S.U.F. Fitzgerald proffered the following nonsense;
"Through sound financial management by our staff and this City Council our City's General Fund reserve balance is a very healthy $13.6 million, significantly higher than the Council's 10% reserve policy.

"After struggling through the recession, this is an incredible accomplishment. We've built this reserve through our strong and well diversified tax base of residential, commercial and industrial properties. And we've simply gotten out of the way and allowed investment to happen in Fullerton."
Even though our reserve budget continues to drop year after year it's still miraculously above the 10% self-set council policy. This allows folks like Mrs. Fitzgerald to pretend things are rosy regardless of reality. Reality, mind you, that is discovered only by those who actually look at the numbers and offer us the proof against her puffery.