Fitzgerald's 5 Year Deception
https://youtu.be/69Wp9PSn_S8
At last night's Fullerton City Council meeting (21 March 2017) I spoke on Agenda Item 3 regarding budget strategies. Amongst other comments I asked for clarification on what was meant by "Structural Deficit" considering that both Fitzgerald and former Councilwoman Jan Flory constantly claimed we have/had a balanced budget. I asked what changed overnight to take us from a balanced budget on 08 November 2016 into a "Structural deficit" today.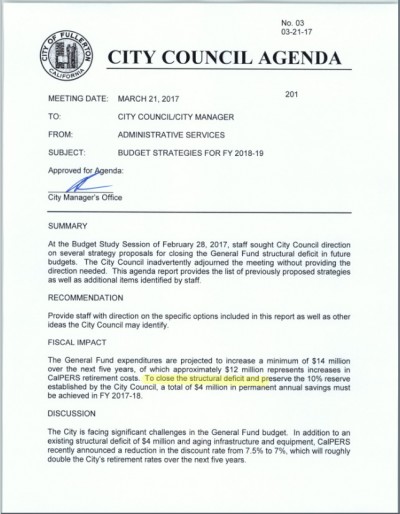 What I got regarding an answer was Councilwoman Fitzgerald dodging the question and blaming Sacramento and the CalPERS rate change. And I quote:
"And I will go ahead and answer the question that was brought up over balanced budgets and what happened overnight and I will tell you, I mean, for former Council member Flory and I, when we talked about balanced budgets. Our 5 year projections, every year showed a balanced budget and what happened overnight is CalPERS decreased the amount of returns that they assumed that we were going to receive. So, that is what happened to those 5 year projections to change them."
There's a lot to unpack so strap in kiddos.
First of all I didn't ask about the 5 year projections. I asked about the budget. For reference on the distinction let us look at Fitzgerald for Fullerton -dot- com:
On her website there is an "Issues" section and in that section is a sub-topic of "Balanced Budget". The very first line in the Balanced Budget topic section of her website claims that our budget was balanced. Technically she claims our budget is still balanced owing to the current status of said website for the literal folk. The very next sentence talks of the forecast.
This is not a distinction without a difference and thus her answer is bollocks. The difference matters because our City Council doesn't vote on forecasts. The Fullerton City Council votes on Budgets and Councilwoman Fitzgerald knows that we don't have a 5 year budget.
We run a two-year budget and the second year is always revised because it's always wrong. There is no budget 3, 4 or 5 years out. The closest thing we have to 5 year budgets are fanciful financial forecasts. Forecasts which are simply projections based upon unicorns, leprechauns and an economy that never falters.
Here is the actual cover page for the 2 year budget for which Fitzgerald voted:
That's the very budget that she claims is balanced – 2015-2016 / 2016-2017. If it's balanced then we should be able to prove that simply by looking at that budget and doing some math.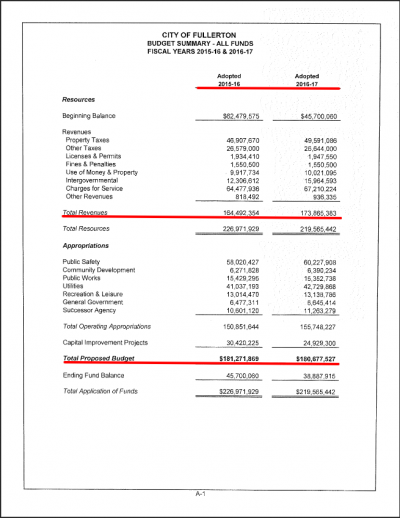 For the adopted 2015-2016 budget we have a Total Proposed Budget of $181,271,869.00 and from that we subtract the Total Revenues of $164,492,354.00 which equals = -$16,779,515.00.
For the adopted 2016-2017 budget we have Total Proposed Budget of $180,677,527.00 and from that we subtract the Total Revenues of $173,865,383.00 which equals = -$6,812,144.00.
That's a two year running total of NEGATIVE $23,591,659.00 and the end of the line for the amazing disappearing balanced budget. The budget that was approved per City Resolution 2015-31 on a 3-2 vote.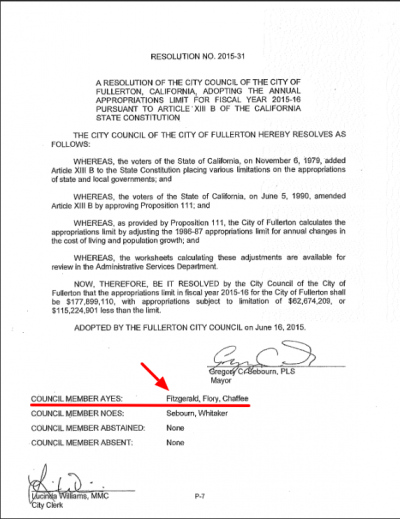 Sacramento didn't sandbag our amazing budgetary skills with a reduced CalPERS rate (that takes place over three fiscal years). The real culprit is that 3 of our 5 council members suck at math.
If we remember back to our friend Sean Paden's post about the salary increases you'll note that over the last 4 years our council ADDED $19,507,953.00 in expenditures and the attached CalPERS obligations that come with those increases.
While it is true that those CalPERS rate changes are going to hurt us it should be pointed out that the rate change was announced on 21 December 2016 and we were running a structural deficit before that time all the while promising the farm to public safety. It should also be noted that CalPERS rates can only sink us if we promise things we cannot afford and over-extend ourselves. We had unfunded pension obligations long before the rate change and the change simply makes them worse for wear.
To blame a retirement Ponsi-Scheme for our financial woes is disingenuous at best. Fitzgerald, like all of the other acting Democrats on council, simply expected the chickens to come home to roost long after she had moved on to bigger and better things.
Having now shown that the budgets weren't balanced and that Fitzgerald's blaming of CalPERS is largely misplaced let us be generous and look at that 5 year fantasy forecast just to make sure we didn't miss anything:
If you do the basic math of subtracting expenditures from revenues you'll see a negative trend in EVERY YEAR except FY 2019-2020. Let's backtrack. Last night Councilwoman Fitzgerald said:
"Our 5 year projections, every year showed a balanced budget…"
Not true. It was only balanced at the very end which happens to be the year with the most pixie dust sprinkled into the formula.
Her website on the other hand said:
"Our five-year financial forecast shows a balanced budget to 2020."
TO 2020. Not through 2020. That's a semantic trap and nothing more. Even that simple trap is only true in the technical sense being that you can't disprove wishful thinking.
Having gone all through all of that we can now unequivocally state that even the very idea of a balanced five year budget forecast is bollocks. Therefore councilwoman Fitzgerald's disingenuous dodge last night about the five year forecast and our mythical balanced budgets is absolute unmitigated bollocks. The closest thing that we have to a 5 year budget is a 5 year plan to which I offer the following:
https://youtu.be/CzBdWX7kvKM