Keep Protesting All the Way to November
There was a protest today in Fullerton, like many cities around the country, sparked by the George Floyd murder in Minneapolis. People are justifiably angry about the actions of the officers involved who killed Mr. Floyd.
This blog has long stood against police misconduct and abuses of authority from the Pre-Kelly Thomas days to my ongoing lawsuit trying to expose the ongoing Culture of Corruption within the City of Fullerton.
We're allies on the issues of abuses of authority and unaccountable police.
That said I implore you to focus your anger.
Police abuse people not for such a simple issue as wrongthink. Manual Ramos threatening Kelly Thomas with his balled up fists wasn't a Black vs. White issue. When 50% of the Officers fired for the murder of George Floyd are POCs it breaks the lazy narrative.
Police do terrible things because we as a society let them. We tell them it's okay. We condone and support their actions. We give them endless benefits in their checks and qualified immunity in the courts.
We do it every election at the ballot box.
In 2016 Jennifer Fitzgerald, our current Mayor, won election with more votes than any candidate has ever received in the city of Fullerton. She won with these numbers despite being the biggest bootlicker on council since the 3 council members we recalled.
During her tenure, this woman has caused our budget to be absolutely CONSUMED by police pay and benefits. Public safety currently accounts for more than $7 out of every $10 we spend in our general fund. This is ridiculous but it has no end in sight and we're getting less and less for it.
Our city cannot afford to fix our roads because she and those like her have never seen a police pension or pay raise she didn't adamantly support.
Meanwhile she has fought, tooth and nail, against any meaningful reform of the Fullerton Police Department from her seat on council. She glad hands police and supports their militarization at every opportunity. She has supported asset seizures which is when the city steals your property to pad their budgets. She has gone so far as to support hiding records from the public by not demanding the City follow basic public records laws. Hell, this blog got sued for showing that FPD is RIGHT NOW doing everything they can to AVOID publicly disclosing wrongdoing by their officers.
This blog exposed a pervert cop who was caught filming up a 16 year old's skirt while assigned to Fullerton High School and her solution was to vote, multiple times, to SUE US. Oversight? Accountability? Assurances that there is chain of custody and accountability? That FPD won't turn more of our kids into victims of sex crimes? She's been as quiet as a church mouse on those issues because she puts bad cops over our kids & our city as a whole.
Did she demand accountability after the Fullerton PD put their friend & then City Manager Joe Felz above the drunk driving laws? Nope. She cried that she'd miss her friend.
Did you know that Fullerton purchased 160 AR-15s? That's more than one PER officer. Why? Why does FPD need that kind of firepower? It certainly isn't to protect you. And if it's not to protect you, it's to protect the very police that our elected officials refuse to hold accountable from you.
Fitzgerald eagerly supported this purchase and militarization without hesitation. As did Jesus Silva & County Supervisor Doug Chaffee.
They do the bidding of the Fullerton Police Officer's Association and the FPOA cares about one thing and one thing only – keeping cops with fat wallets above the law at your expense. Remember that the less accountable they are, the more you pay when they screw up. Those millions that Fullerton paid Ron Thomas certainly didn't come out of any police pensions or FPOA bake sale.
In the near decade since Kelly Thomas was murdered we have seen no meaningful reform of the Fullerton Police Department. No transparency. No real oversight. Jennifer Fitzgerald has now been Mayor twice in that time. She was put onto council in the election months after the recall resulting from the Kelly Thomas murder – she even ran on exploring changes to the police department and it was all bullshit to placate you. She allegedly refused to even watch the Kelly Thomas video unless her buddy, Chief Danny Hughes, was there to guide her opinion. Imagine somebody saying that about the George Floyd video – that they wouldn't watch it without the Commander in charge to guide them through it? That's our Mayor.
If you care about police accountability. If you care about justice. If you care about any of the things the protesters claim to care about in this moment of national outrage – make your voice heard at the ballot box AND the in the streets.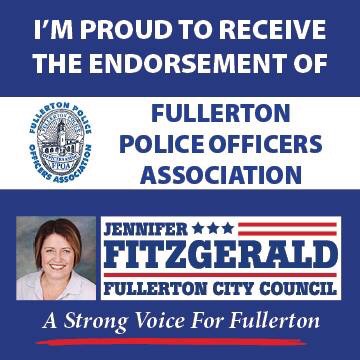 Don't forget. Don't get complacent. Vote against anybody who puts the FPOA above we the people. Kick the Jennifer Fitzgeralds with their constant bootlicking to the curb. Be a part of the change that stops the platitudes.