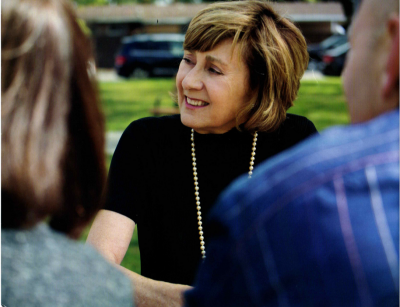 If Paulette Marshall Chaffee receives the most votes in the District 5 Election on 06 November – will she resign the office or allow herself to be sworn in?
It's not a tough question but Mrs. Chaffee has refused to talk to anybody or answer any questions. I emailed both campaigns asking for comment before posting the original sign theft post. No comments or responses came. Likewise Voice of OC, KTLA, Fox11 and the OCRegister have all tried to get various answers from her to no avail. She has ignored them all. She has also, by way of her silence, manipulated the voters in District 5 by sending mixed signals.
With her signs still hanging all over the district, her mail still hitting voter mailboxes and her husband's campaign overlapping her own race (which throws a few percentage points at her by sheer name association)  she is, by all visible metrics, still running despite her Facebook and website deactivations.
With consideration of how power signs can be in an election, which I know from personal experience, I opted to do some research.
I started by looking at her 460 disclosure forms and found that she used Cogs South and Impact Signs to print and place her campaign signs. The signs cost her $470.oo to place ($3/sign plus distance charge).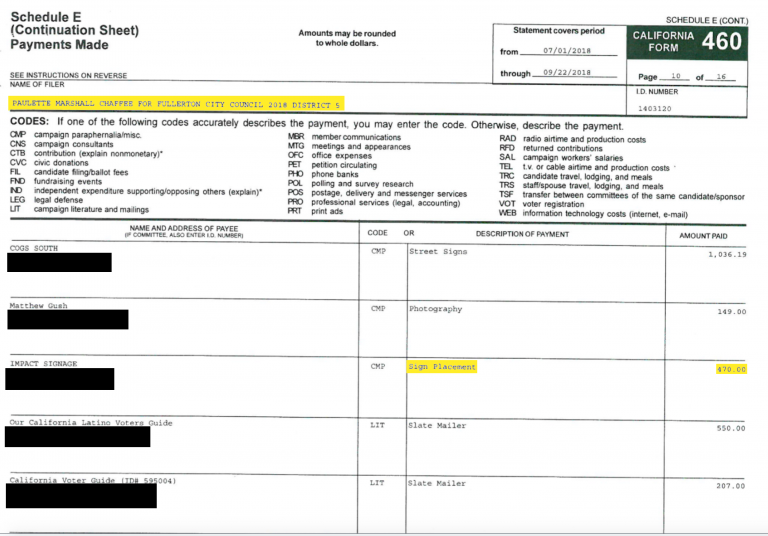 Cogs South are the local go-to for signs and are great people to work with so I also took the liberty of giving them a call. When I asked if a candidate could pay Impact Signs to remove signs I was assured the answer was yes with the only qualifier of it maybe taking a few days. When I asked how much it would cost to have the signs removed, being that that $3/sign cost included post-election takedowns, I was told no more than that cost again. Most likely less.
Even if we assume the same cost per sign again, it would cost Paulette Marshall Chaffee one phone call and $470.00 to have her signs removed from around District 5.
$470.00.
That's what Chaffee is unwilling to spend to show that she really is suspending her campaign. (more…)