Here's one of the more curious pieces of mail we've seen in town.  Check out what landed in a friend's mailbox in District 5 over the weekend:
According an October 8th 2018 e-mail from the Chaffee campaign to supporters and the Fullerton Observer, Mrs. Chaffee suspended her campaign.
If she suspended her campaign on the 8th then why were people getting mail supporting her campaign on the 13th?
Did she think we wouldn't notice?
Several people have floated the idea that Paulette Marshall Chaffee didn't really suspend her campaign but simply made a few overtures to calm the storm surrounding her sign pilfering.
"Never trust a Chaffee," wrote one source familiar with the family. "After Doug's shameless betrayal of his supporters concerning Coyote Hills and Measure W, it's quite clear the Chaffees view promises as maliable and voters as disposable. Paulette's sign antics are completely consistent with the values Doug put on display for the last six years."
While it's true that she has shuttered her website and closed down her campaign Facebook page, she hasn't paid to have her signs removed and now people are getting her campaign mail, new and fresh off the press.
We know that she cannot be removed from the ballot so was her campaign suspension nothing more than a ploy? Is she now just running a stealth campaign hoping to benefit enough from her husband's name also being on the ballot?
Chutzpah.
We won't know for sure until she is forced to release her campaign financials. Excuse me, Paulette, but can we get receipts with that official-if-you-lie-you-go-to-jail-campaign finance form?
I do like some of the nonsense she's peddling, although I can't get past the first point. Her husband has been on council for 6 years and yet "fixing our broken roads" is a huge priority for her. If she couldn't convince her husband to put our infrastructure ahead of public pensions I'm not sure how she planned (plans) to convince two other council members.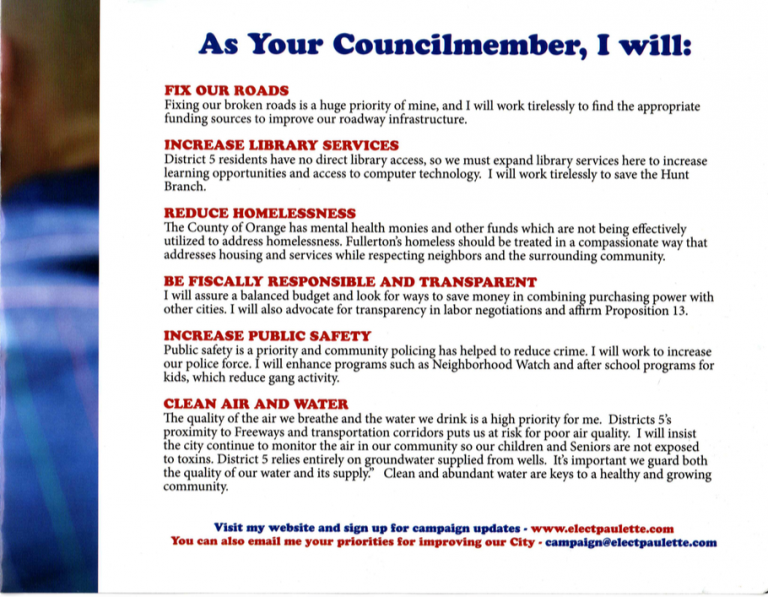 Work tirelessly to save the Hunt?  The same Hunt Library her husband Doug has insisted we should sell?
"Come join our campaign . . ."
How do you join a suspended campaign? Do we all just hang out on the corner waiting for Godot?
This fits in nicely with her withdrawal email complaining of "toxicity". We agree. Her behavior has been toxic.
Thief? Check. Caught on video. Twice.
Liar? Check. Expensive multi-page mailer sent after she promised to suspend her campaign.
Anyone want to guess what's next?