Addendum: I apologize for not providing a link to the story in Voice of OC. Here it is. And after reading it again and Elattar's phone interview with the egregious Egleth, I really have to wonder if he even went to the site at all. Why would he have to call her if he was there listening to her nonsense? Could this whole tale be simply the result of phone interviews? If so, that would be pretty bad, and seeing Leopo's pictures still should have made his journalist's antennae go sideways – if he has any.
DE-H
People who read the online news source known as the Voice of OC know that it reflexively leans toward stories that promote the notion of the local underdog up against monied interests entrenched in the corridors of power.
And that's okay – up to a point. And that point is crossed when their "reporters" buy into some shenanigan or other without delving at all into the issues. It's the narrative that counts, of course: rich vs. poor, good vs. evil, and the narrative must not change.
And so when Voice of OC reporter Hosam Elattar got a call from Ahmad Zahra (or one of his brain-washed followers) about the "popular" uprising in Fullerton about a rejected "greening" grant it must have been irresistible. And so the Voice scribe showed up for some sort of Trail to Nowhere romp where the usual suspects – Egleth Nunnci and Saskia Kennedy of Fullerton Observer infame – were ready for him, with a gaggle of followers bearing the usual "home made" signs of protest.
It doesn't seem to have occurred to Mr. Elattar to ask why protesters with signs were parading down the abandoned UP right-of-way where exactly nobody could see them, except Julie Leopo, the Voice "photojournalist." A real reporter, or an honest one at this point would know he was being played. It doesn't seem to have occurred to him to inquire into Nunnci's absurd statement that he later published:
"This is an area that is overpopulated, overdeveloped – where people are not thinking about green spaces," Nuncci said. "Mental health (issues) are happening because our children don't have the opportunity to go and play and run and enjoy."
Elattar didn't ask why those poor, mentally affected kids couldn't "play and run and enjoy" themselves in nearby Richman Park or Lemon Park or Independence Park. Nor did he inquire into the question of how these little victims of society were going to get to the Trail to Nowhere, since only one street – three short blocks of Truslow Avenue – is closer to the right-of way than to Richman Park or Independence Park. And he didn't bother to notice, or at least inquire about the graffiti and ask Ms. Nunnci if maybe the industrial zone with its obvious blight, might not be the best place to build a linear park. The Leopo pictures themselves betray the problem by showing the beloved Trail to Nowhere as it runs along the no man's land next to and lower than the Santa Fe mainline tracks.
Did Elattar bother to continue along the route to see what it passed through? Did he even bother to look at a google satellite image?
Did Elattar bother to interview any of the residents of the adjacent Liberty Walk community at the western end to find out if they were even notified of the Trail to Nowhere proposal that had lights shining into their backyards? What about SOCO Walk on the eastern end? Did he ask anybody who actually lived on Truslow whether they would use this silly facility? Why would he do that? He already had his tale from the get-go.
Elattar, moreover, took it as gospel that this rump trail would have provided connectivity to other trails and "several parks." It would not have – previous lies that even City staff have finally abandoned, although The Fullerton Observer keeps using to dupe the gullible kids and the elderly Observers who just can't know better.
And finally I would be remiss if I didn't share this charming image: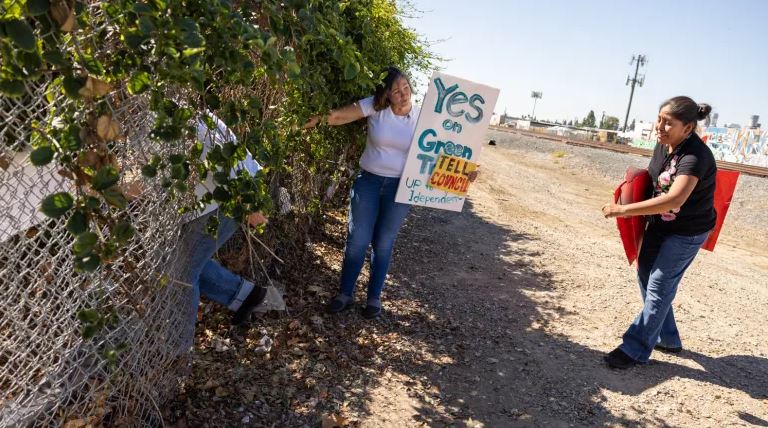 This is Saskia Kennedy, directing traffic for her photo op actors, creating the news before her Fullerton Observer writes opinion "news" articles about it.
One hopes that Hosam Elattar's superiors at the Voice of OC cotton on to the scam pulled on their ace reporter and advise him to delve into the issue more closely. But I'm not counting on it.