The 2022 effort to create new districts stumbles along. Last week, the Commission set-up to make a recommendation to the City Council met to discuss the several maps that had been submitted. The complete lack of public participation was evident – only a handful of maps were submitted.
At the end of the meeting a 5-2 majority favored Map 114 – the demographers tweak of Commissioner John Seminara's Map 106. Then they added Maps 111 and 112 as worthy of Council consideration. Take a look at Map 114. The dark lines show current district boundaries:
Map 114 isn't perfect, but it is informed by Fullerton's clear major street boundaries and respects both ethnic and physical communities of interest. It cleans up the idiotic Tentacles of Interest foisted on the voters in 2016 by our former Mayor-for-Hire, Jennifer Fitzgerald. There would no longer be district contortions so that council members could each have an interest in the public money vortex knows as Downtown Fullerton.
Two of the commission members – former City employee Kitty Jaramillo, and Jody Vallejo preferred Map 110 a bizarre amalgamation for District 3 – a long, thin district that stretches from Placentia Avenue to Euclid Avenue connecting neighborhoods that are physically remote and that don't share any obvious connection. The adherents of this map apparently banded together into a committee of some kind to concoct this hot, wet mess, proving that more heads are not necessarily better than fewer. Check out this acid burp:
The people who defended this map claimed that it is the "College map," joining CSUF and FJC with their surrounding neighborhoods as a dubious "community of interest." The further rationale for its support was that "many people" had participated in its creation. This map violates several basic tenets of district-making, to wit: creating a district (3) that is not compact; splitting the trans-57 community of interest into two separate tribes; and throwing together neighborhoods almost 4 miles apart in a weird, horizontal embrace.
How anybody could justify this District 3 is still beyond me. The demographer tried to make it less ridiculous by whacking it back by a mile (Map 112), but it still looks unsupportable by reason or logic. Here is Map 112.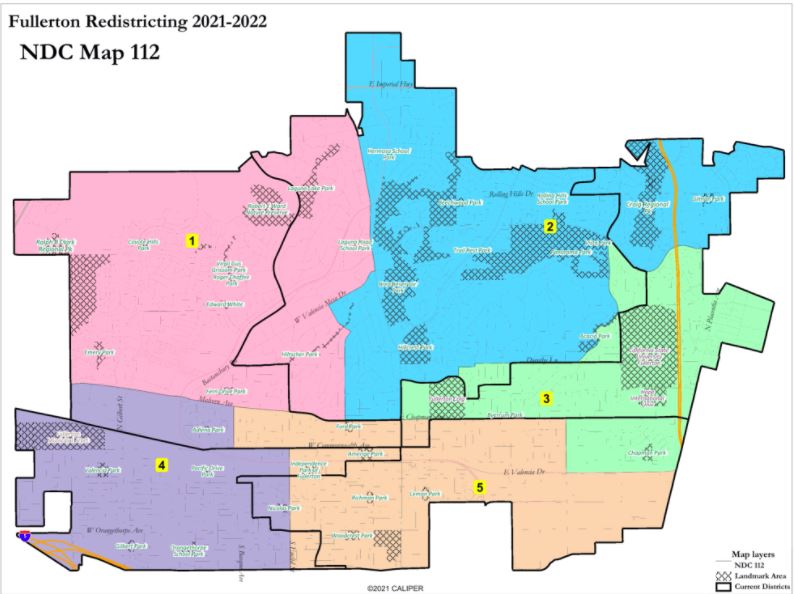 So what gives? Commission member Tony Bushala dialed in to proclaim that Map110 (and by extension, Map 112 was motivated by purely political consideration, not the Voting Rights Act and the Fair Map Act that govern this process, and would have none of it. He didn't elaborate.
And then it hit me.
Map 110 (and by extension Map 112) was submitted by a group of people committed to keeping Jesus Quirk-Silva, the current liberal, dim-witted D3 councilman in office. The other recommended maps – that removed the gerrymander that put him in the office – would leave him with no place to run in 2022 and out office!
Hence the desperation by this "committee" that wasted a lot of verbal gas doing what it not permitted by the FPA – protecting a party or a politician.
Oh, well, the maps go to the City Council on Tuesday the 8th, where outrage theater, liberally sprinkled with liberal handwriting will be featured on the playbill. Expect long lines the usual weepers, new and old, show up to promote Map 112. Will it work? That depends on Mayor Fred Jung who by now must be getting a shitload of unwanted importunity coming at him.
Of course there is nothing stopping a council majority from devising its own map, drawing on others, or cooking up a whole new one. But as it stands now, Map 114 is the one supported by the Redistricting Advisory Commission.