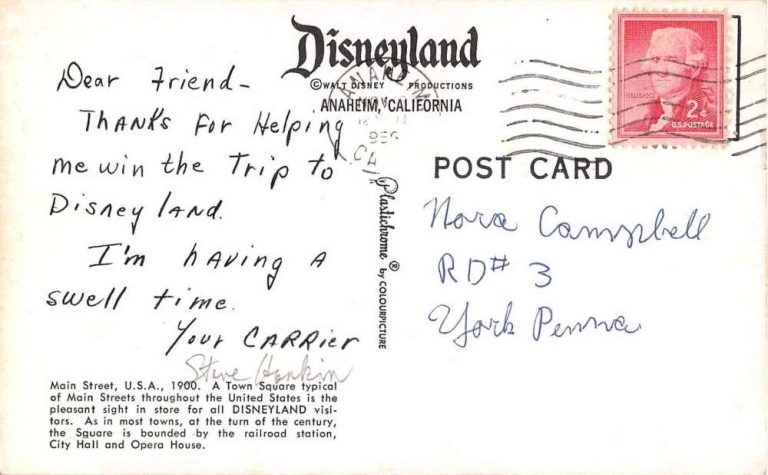 The happy old post card read.
But news from Anaheim isn't all that happy anymore what with the constant grifting of our lobbyist-council creature Jennifer "SparkyFitz" Fitzgerald's boss, Curt Pringle; and then there's all the trouble the City is having with their cops shooting people. To death. Sometimes in the back. Riots ensue.
I won't bother sharing the litany of bad shootings by the Anaheim PD and the various white washes of our useless DA. But I do want to talk about the most recent incident of bad cop behavior. It's not about an Anaheim cop, at least not directly, but some off-duty LAPD loser named Kevin Ferguson, who lives in Anaheim and who was having some sort of running feud with eighth graders cutting across his corner lot. Get off my lawn ya no good punks! Here's a Voice of OC story that includes a video taken by a witness.
When you watch the video you see a grown man physically accosting a much smaller kid, and refusing to relinquish his grasp as he yanks the minor along. Finally some of the kid's pals intervene knocking the dope over a hedge. At which point Ferguson pulls out a pistol from his pants and squeezes off a round.
Well, pretty soon the Anaheim cops show up and what do they do? Arrest the guy who has committed multiple felonies before our very eyes? Noooooo. They arrest the little kid and send him to juvenile hall. The off duty cop? He is politely escorted home with no charges as the whole assemblage of kids who witnessed the whole embarrassing affair are treated like criminals.
Later, at a press conference, the Chief of Police, Raoul Quezada admits his unhappiness at Ferguson's behavior, but says there is no evidence that he did anything illegal, but that there is evidence that the kid committed a crime: a threat to "shoot" Ferguson, even though on the video we can clearly hear the kid deny he said that. But they believe the cop. Or at least they say they do.
Hmm.
What I see is a knee jerk defense of a fellow policeman at the cost of justice itself, and here is where the Anaheim incident becomes an object lesson, even if we didn't need another one. We've seen how the "good" cops defend or ignore the crimes of their pals, and how the bad cops lie on the witness stand with impunity about crimes large and small.
Well, here's a question I put to the idiots who defend Kevin Ferguson, and the Anaheim cops that let him walk: why did this creep shove a loaded pistol in his pants and go outside to confront 13 year old kids?  Please ponder the possible answers before responding..