The Wrongful Incarceration of Emmanuel Martinez
An alert Friend reminded us today of a story that came to light last fall and that has eerie overtones of the subsequent Veth Mam case we have previously reported. The story is told in the OC Register, here.
The facts are simple. Even though an eye-witness ID'd another guy in a line-up, the Fullerton police arrested Emmanuel Martinez who unluckily just happened to be in the vicinity. Of course Fullerton "Officer" Miguel Siliceo told a hearing judge that he had indeed got the right guy and Martinez was locked up in the County jail for five long months awaiting the inevitable railroad job.
Martinez's luck changed for the better when he got a public defender, Denise Crawford, who bulldogged the case. When audio evidence surfaced that proved  Siliceo was telling tall tales, the DA, mirabile dictu, dropped the bogus charges against Martinez.
So Emmanuel can thank his lucky stars that he didn't actually go on trial like Veth Mam, and then end up in state prison. And "Officer" Siliceo is lucky, too. Lucky he never had to perjure himself in front of a jury, and lucky he works for a police department where incompetence, and worse – felonious behavior are just par for the course.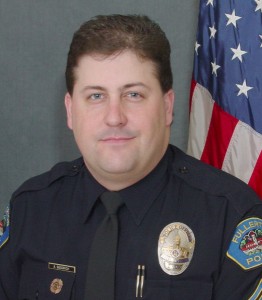 Of course the story wouldn't be complete without the bland statement by FPD spokesassclown Andrew Goodrich that the cops work "diligently" to arrest the right people and generously let 'em go if exculpatory evidence surfaces. Gee, thanks, Andy. Of course no mention is made by Goodrich of FPD hiding exculpatory evidence in the first place; nor is perjury; and of course there is no apology to the victim of FPD malfeasance. Wouldn't want to undermine public confidence in our Heroes, now would we?
I wonder how much that one cost us.