BREAKING: Joe Felz Charged with DUI, Hit and Run
Updated 4:55 PM:
The Orange County District Attorney's office has issued a press release: FORMER FULLERTON CITY MANAGER CHARGED WITH DUI AND HIT AND RUN ON ELECTION NIGHT:
Case # 17NM03367

Date: March 3, 2017

FORMER FULLERTON CITY MANAGER CHARGED WITH DUI AND HIT AND RUN ON ELECTION NIGHT

FULLERTON, Calif. – The former city manager of Fullerton was charged today with driving under the influence and hit and run on election night. Joseph Burt Felz, 58, Fullerton, is charged with one misdemeanor count of driving under the influence of alcohol and one misdemeanor count of hit and run with property damage. If convicted, Felz faces a maximum sentence of one year in county jail. The defendant is scheduled to be arraigned on April 3, 2017, at 8:30 a.m. in Department N-8, North Justice Center, Fullerton.

On Nov. 8, 2016, Felz is accused of driving a vehicle under the influence in a residential area of Fullerton, driving over a curb and striking a tree. A witness to the incident called 911 and the Fullerton Police Department (FPD) responded and located Felz nearby. Felz is accused of unlawfully failing to stop his vehicle immediately.

FPD initially responded to the scene and then transferred the case to the OCDA for further investigation and legal review.

Senior Deputy District Attorney Cynthia Nichols of the Special Prosecutions Unit is prosecuting this case.
Updated 4:50 PM:
An anonymous source has sent in the following regarding the DA's decision to charge Joe Felz with two misdemeanors.
Updated 4:45 PM:
View the criminal complaint – California v. Joe Felz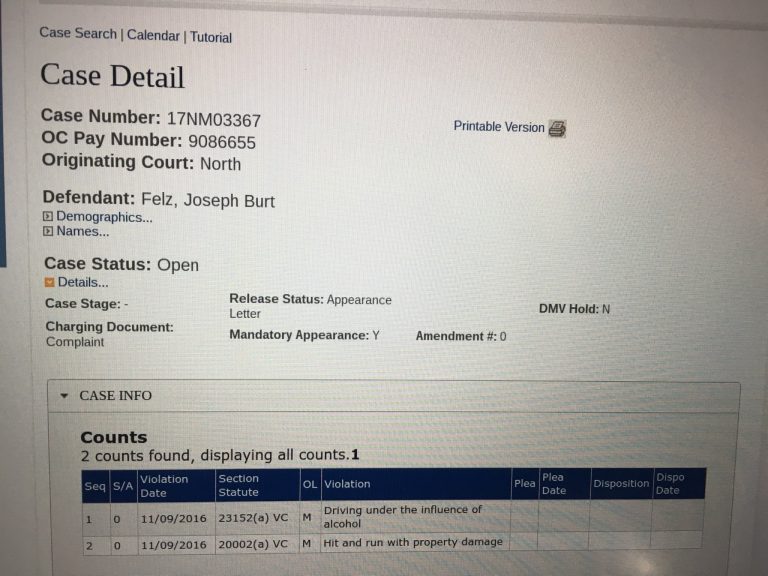 Original Post:

Former Fullerton City Manager Joe Felz is being charged with TWO Misdemeanors, DUI and Hit & Run, for his wild ride on 09 November 2016. After nearly 4 months of nothing and obfuscating from the Fullerton City Attorney as well as the Orange County District Attorney's Office it looks like something is finally being sorted out.
We will update you as more information comes out.