Oh look! The She-Bear, Pat McKinley, is bestowing his wisdom upon the women of north Orange County tonight at a Soroptimist gathering at Brea City Hall, Meeting Room A, tonight at 7 pm.  Here's the announcement: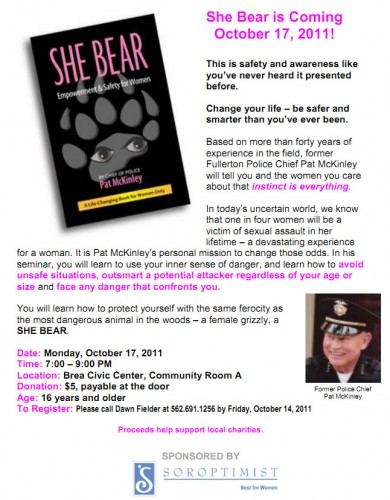 For $5 the She-Bear will explain all about women using their inner ursine instincts to beat off assaults from felonious He-Bears, and McKinley delves into his subject with all the psychological depth and expertise bestowed by a 12th grade education. It's all about instinct, where Pat's alleged street savvy trumps any real intellectual understanding of anything.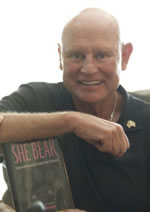 I wonder if any of the attendees will ask Ex-Chief McPension why he, as boss of the Fullerton Police Department, hired the sexual predator Albert Ricon, and then permitted him to remain on the streets preying upon female victims after already having been identified in numerous complaints. Rincon's MO was to falsely arrest women and sexually assault them in the back seat of his patrol car.
And I wonder if Pat will explain why the City of Fullerton just handed over half a million bucks to two of Rincon's victims to settle a civil rights law suit against Rincon and the City; or why Federal Judge Andrew Guilford dressed down McMillion's department for its signal failure to protect the women of Fullerton from Rincon.
Perhaps the best advice McKinley can give us ladies is to stay out of FPD squad cars.