Back in 2016, FFFF filed a personnel complaint with the Fullerton Police Department against the officers involved in the attempted cover-up Joe Felz DUI accident. The complaint offered a tiny bit of hope that a quasi-legitimate internal investigation might be carried out. It also entitled us to a legally-mandated notification as to whether the complaint was "sustained" or "not sustained." Sadly, this process represents the absolute limit of public visibility into the California system of police self-governance that has drawn the ire of FFFF for a decade.
Well over a year later, this letter shows that some of the accusations leveled at Sergeant Jeff Corbett and Lieutenant Goodrich, under the leadership of the since-departed Chief Danny Hughes, were indeed sustained.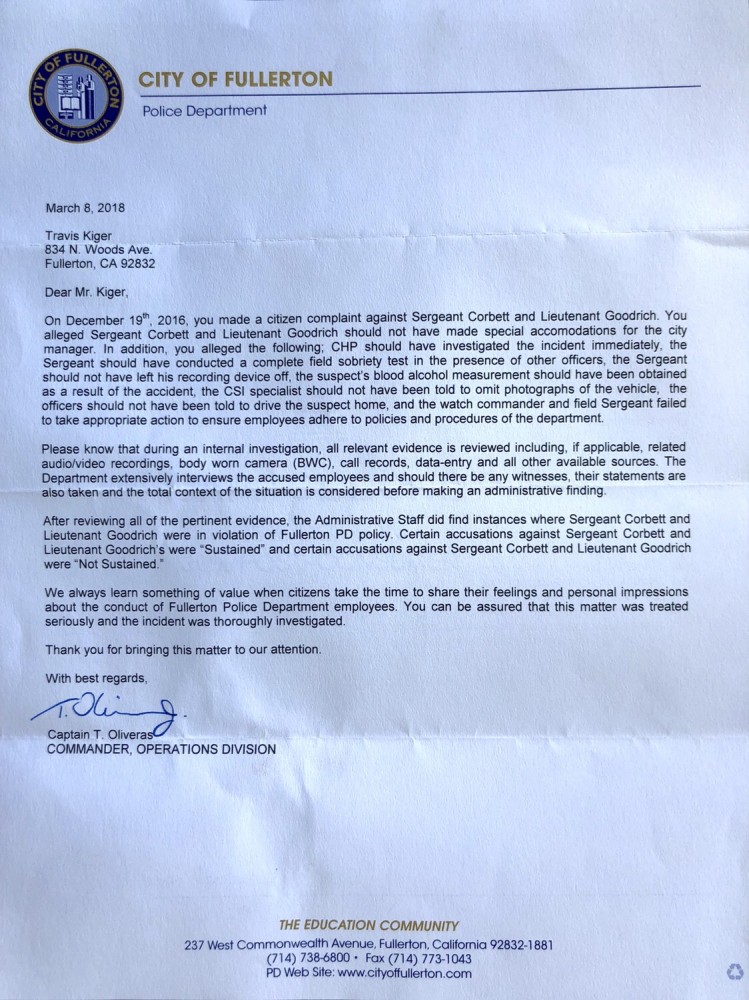 While state law prevents the public from knowing what disciplinary actions were taken as a result of the investigation, sources inside the Fullerton Police Department indicate that Sergeant Jeff Corbett was terminated in February. Lieutenant Goodrich, who once considered himself a promising candidate for promotion to Captain, was pushed into an earlier-than-planned retirement beginning this Tuesday.