At last night's Fullerton City Council meeting (21 March 2017) I spoke on Agenda Item 3 regarding budget strategies. Amongst other comments I asked for clarification on what was meant by "Structural Deficit" considering that both Fitzgerald and former Councilwoman Jan Flory constantly claimed we have/had a balanced budget. I asked what changed overnight to take us from a balanced budget on 08 November 2016 into a "Structural deficit" today.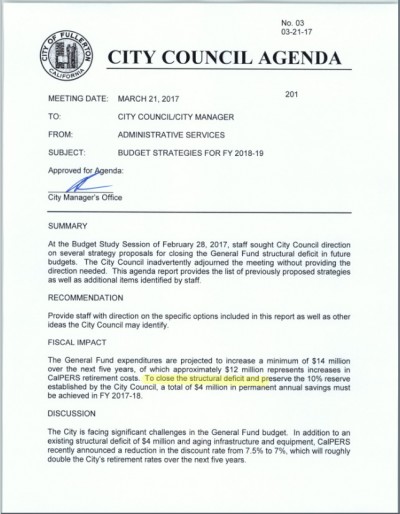 What I got regarding an answer was Councilwoman Fitzgerald dodging the question and blaming Sacramento and the CalPERS rate change. And I quote:
"And I will go ahead and answer the question that was brought up over balanced budgets and what happened overnight and I will tell you, I mean, for former Council member Flory and I, when we talked about balanced budgets. Our 5 year projections, every year showed a balanced budget and what happened overnight is CalPERS decreased the amount of returns that they assumed that we were going to receive. So, that is what happened to those 5 year projections to change them."
There's a lot to unpack so strap in kiddos.