Downtown Rules Apply or They Don't
I'm in Downtown Fullerton as I type this post. Specifically I'm at an office space some friends and I are thinking about renting for our podcasts, the same office space I used for the live video on Flory's appointment. I'm here because I wanted to reshoot that video owing to the technical and delivery problems of my first ham-handed efforts and I wanted to see how practical this space is for our purposes at night.
I knew the train schedules and checked the sound levels with a decibel meter for quality and started figuring out some of the technical things I wanted or needed to change. Then 8pm hit and I encountered something I hadn't really planned around – live music emanating from across the transportation center.
Let's get to brass tacks here; it was coming from the Slidebar – a favorite punching bag of commenters here on FFFF and some of the people I know around town. But this is a problem for me because generally I LIKE the Slidebar. I know Jeremy and he's always been civil with me. I know Josh and he allowed me to take photos inside the bar back when I shot bands for a hobby. I have little desire to bother people I have no beef with personally and who have been cool with me historically.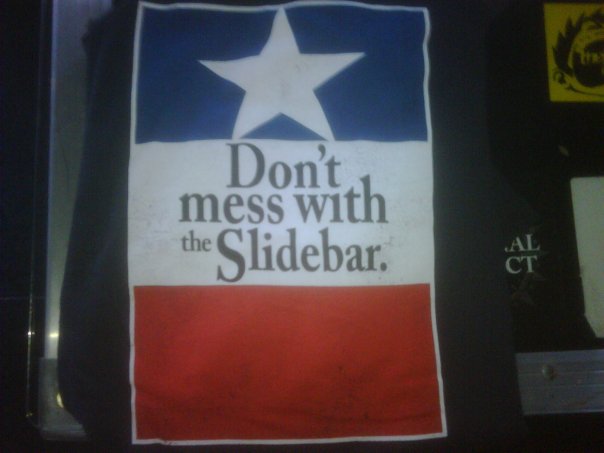 When I go after things I try to focus on issues and the people I think are causing the problems. I spill a lot of digital ink railing against Fitzgerald, Silva, now Zahra and so forth because I think they're bad leaders and corrupt politicians – but I try to leave their personal businesses and family lives out of my posts, comments and claims as best I can because that's not where my interests rest unless those things prove to be connected to some form of political corruption, grandstanding or malfeasance.
But tonight I got irritated. I got irritated because this city plays favorites and that favoritism, while common everywhere, shouldn't exist from government and shouldn't impinge on my ability to do my work in an office I want to rent. Further, the city lies about basic provable things because they think nobody will bother to call them out on their nonsense. I saw this when Fitzgerald ran all over Fullerton claiming our budget was balanced. I saw this when the city lied about Red Oak's bonafides to convince the council to approve a zone change. I saw it and heard it again tonight.
You see, I have a decibel meter as I said above and I used that meter to check the ambient noise in this office. Prior to 8pm the noise level was about 45db. When a train went by it went into the mid-50s and when I spoke loudly it went into the low-60s. Then just after 8pm when a band hit the outdoor stage at the Slidebar my meter was reading an ambient level of 65db. So I took a quick walk across the parking lot and at the property line of the Slidebar it hit an average of 82db.
82db. At the property line. Even the new "Noise Zone" doesn't allow for 82db at a property line.
And yet here we are with a blatant disregard for the rules because those rules don't apply equally. This is how a sidewalk got stolen in Fullerton and this type of favoritism and cronyism shouldn't be forgiven or accepted.
Now anybody who knows me knows I'm a limited government guy and I don't like to call the government or police on anybody for anything if it can be avoided. But I don't have the patience to tell a business to cease their ways every night and I wasn't about to waste my time with bouncers so I called FPD to test a few theories.
And then I waited. I waited for 50 minutes for an officer to arrive at the Slidebar. I waited and watched from across the street as the officer parked, went inside and then left. Leaving without so much as asking me about my complaint or following up with me at all – even after I told the dispatcher my name, phone # and where I would be located.
I have video evidence of the noise, video evidence of the db ratings. And yet.
And yet nothing. Nothing because the rules don't apply to too many establishments in Downtown Fullerton.
After some more work and some more irritation I took a longer walk around 11pm and took readings all over Downtown. The ambient noise was anywhere between 55-65db away from bars, 70db or so when people were talking normally and pushing passed the 80s at the property line of most of the clubs. Joe's was the worst offender with an average reading of 86db at the back entrance, followed by several others in the low-80s.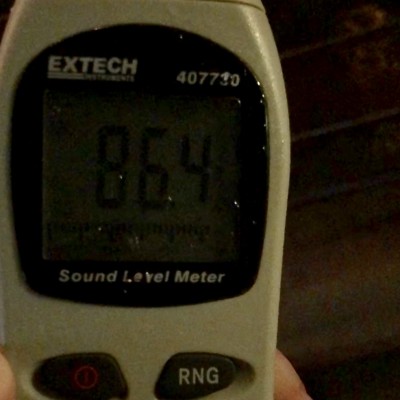 But it gets more irritating.
If noise was the only complaint downtown it might be easy to mitigate the issue but this isn't an isolated problem. We have a "Restaurant Overlay District" which treats obvious bars as restaurants for the sake of rights and conditions of business. A bar might need to add parking whereas a restaurant would not for example.
However when Ted White stood in front of the Planning Commission and said it was hard for "restauranteurs" to abide by a 50% rule that requires restaurants to sell 50% +$0.01 in food to not be classified as a bar I knew it smelled fishy. So fishy that I asked around and some friends put in a records request for those numbers, as our municipal code requires all such businesses in Downtown to maintain them, and Matt Foulkes responded that no such information existed. When clarification was sought asking if that meant that the city has never sought such info he stated that was in fact the case.
A key issue here is that Ted White, a guy we pay 6 figures to solve problems, just makes up or repeats nonsense arguments to the planning commission with zero information to back up his claims. Information that was at his disposal if he wanted it. But he didn't want it. He doesn't want to tell the truth about who is out of compliance. He doesn't want to out the people who are in blatant violation of our municipal code all while he shills for rule changes and preferential handouts to those very businesses. Changes such as paid parking to benefit them, louder noise levels and other relaxed rules. It's hard to blame him though because he'd have to be somewhat of an idiot to take this info to a council that holds fundraisers in the offending establishments.
According to further information provided through records requests I put in with the city, Eat at Joes, the Slidebar, Stubricks, Branagan's and JP23 have been operating illegally without the appropriate permits, some for more than a decade. I saw tonight as they blatantly violated capacity limits, noise ordinances, cover charge rules and on and on without nary a worry because staff, the Planning Commission and City Council have no interest in holding certain businesses to account and therefore any actions by PD (if any even happen) are ultimately futile.
That the Slidebar had the police called and went right back to blasting a DJ at over 80db at the property line two hours later shows how blatant the disregard is for the rule of law and the welfare of their neighbors and why should they care? If the rules are cooked in your favor are you really going to ask to have them changed? I must stress again that this isn't meant to single out the Slidebar. I used them for my example because they are the closest in proximity to me and I can hear their music even now.
Now, if the argument is that the rules are stupid and need to go away then nobody should have to abide by them. But that's not the case – the argument from the city is that the rules are hard to enforce and so we need to give "amnesty" to the rule breakers all while new businesses must abide by every whim and crony manipulation put in front of them by city staff. Unless those rules remain too hard to enforce and then something something bureaucracy. Keep in mind that the new "Noise Zone" that Community Development Director Ted White was pitching to the Planning Commission allows for amplified sound of up to 75db but tonight, when a lower threshold is law, few places are abiding by either. Not Joes, not Heroes, not the Slidebar, not Bourbon Street, not Commonwealth or Palapa or Florentines or Matador, not Ziings or Back Alley. Stubricks, Hopscotch and Continental were all fine and I couldn't get a good reading at Branagan's because Ziings was throwing off the levels with their bass.
Right now it is after 1:15am and a DJ is playing. I can hear them from across the street and if I take my decibel meter out to the offending property line again I'm sure that they'll be in violation of even the new planned rules for outdoor amplified sound. And if I call in another complaint nothing, again, will happen. Then in a few weeks or perhaps months we'll get to watch as Ted White again comes to Planning Commission and then Council to promise that if the rules are just relaxed a little more, this time the businesses will comply even though they did't comply with those newer, "better", more relaxed standards tonight.
The way the city handles all of this is unethical, immoral and just plain wrong. Contra Jan Flory it's time that Council, commissions and staff started to work for us for a change. They need to stop being advocates for cronies, favorites and friends and instead be arbiters of facts and figures and honest government. We taxpayers and residents are the heart of this city and we deserve to be treated with honesty and respect.