You know, Larry Bennett really could have just left it alone. After dodging a final, humiliating meeting to certify the recall election that drove them out of office, at least one of the Three Bald Tires finally deigned to show up at Fullerton City Hall tomorrow morning to do the deed. It could have been done quietly with as little fanfare as possible. Actually only one of them even needed to show up.
But no.
Bennett seems to think the Three Dead Batteries need a sendoff appropriate to all the wonderful things these men have done for Fullerton. Friday he notified supporters of the Three Tree Stumps that there was to be a special council meeting, and that he hoped everybody would show up to let them know what terrific public servants they have been.
Bennett has likely spent the week-end making phone calls to drum up some folks willing to say kind thing about the Three Pea-less Pods. No doubt some will show up. And others are likely to show up now, too. People who recognize the disastrous misrule of these three characters:

Don Bankhead: dumb-bell, and self-annointed king of Fullerton, whose somnolent councilmanic career was punctuated with one Redevelopment boondoggle and union give away after another.
Dick Jones, the southern fried lunatic and loud-mouthed bully who never came to understand that the authority to give orders doesn't confer wisdom – or even relevance.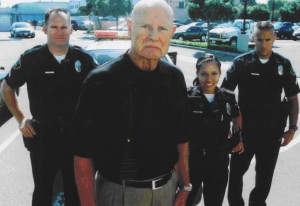 Pat McKinley: protector and apologist for the undeniable Culture of Corruption in the Fullerton Police Department that he himself had created. Those ladies weren't like you. Aliens. Don't rush to judgement.
Well, good bye and good riddance.
And please take Larry Bennett with you. The tide is rising.