Who is Jennifer Cowen-Fitzgerald, and Why Doesn't She Like FFFF?
It looks like the repuglican phalanx has already started to dredge Laguna Lake for candidates to run in November to hopefully reclaim the Fullerton City Council for themselves, and maybe even rewrite the history of the Recall. Well, good luck with that.
It seems that one of their own kind, Jennifer Cowan-Fitzgerald has been making inquiries to important local elected officials about the possibility of a Cowan-Fitzgerald city council campaign. Who is this person? A lot more about that later. In the meantime, enjoy this snapshot of  Ms. Cowan-Fitgerald's front yard – just to show where this woman's sympathies lay.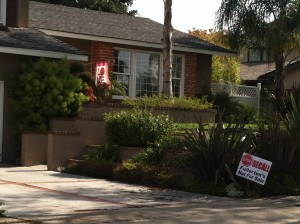 No Recall? Now that's not very good, is it?
Apparently Ms. Cowan-Fitzgerald is not a fan of mine, or of our humble blog. Well, gosh. Was it something we said?
Suffice to say, I will do anything and everything I can to make sure we have no more of these unaccountable, irresponsible, mealy-mouthed RINOs foisted on us by Ed Royce and the dwindling repuglican crowd.
Yep. Bank on it.