A few facts.
1. The State of California is broke. Why? Mostly because spendthrift incompetent politicians like Jan Flory keep spending more and more.
2. DUI checkpoints and their random stop of law-abiding citizens violates the spirit, if not the letter of the Fourth Amendment to the US Constitution.
3. DUI Checkpoints provide lots of overtime for cops, most of whom just stand around doing nothing but socializing.
4. The removal of drunks from the road per man-hours in DUI stops is less than if the cops just pulled over real drunks driving drunk. In Downtown Fullerton that would be like shooting fish in a barrel.
Now let's observe the vinegary observations of a local Fullerton spendthrift: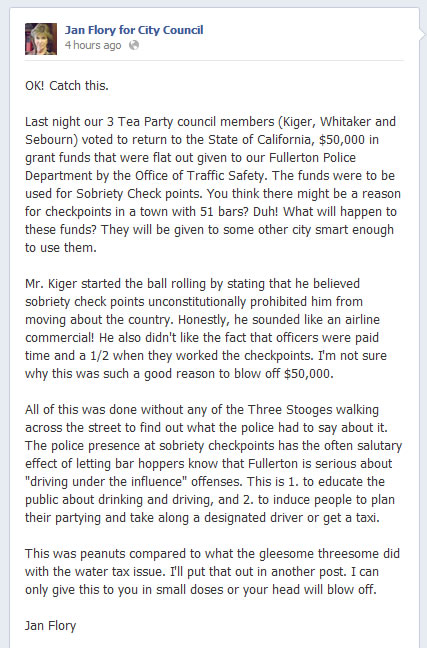 Jan Flory thinks somebody needs to consult with the cops to find out if they support overtime for the troops, paid for by somebody else? Hoo Boy, what a great idea. Here's my idea: arrest people for driving drunk instead of arbitrarily harassing sober motorists.
51 bars? Yeah, right. You and your pals, the Three Bald Tires, turned downtown Fullerton into an open air liquor parlor, so thanks for that.
Oh, yeah. And another thing. Thanks, Jan for recognizing that the "in-lieu fee" was really a tax! Now just repeat: illegal tax, and you'll have it 100% right. You should; you voted for the illegal tax each year for six years!