Back in 2012, after Fullerton Officers beat Kelly Thomas to death. In the aftermath, that is still ongoing today as former Officers Cicinelli and Wolfe continue to fight their terminations, the Cicinelli family asked for close to $1k in order to hide out in his parent's house in Arizona.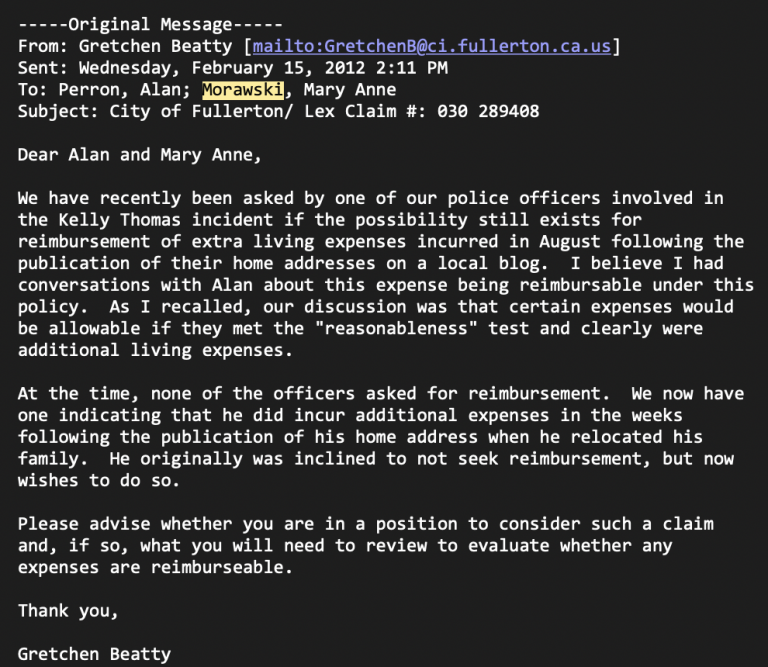 "We have recently been asked by one of our police officers involved in

the Kelly Thomas incident if the possibility still exists for

reimbursement of extra living expenses incurred in August following the

publication of their home addresses on a local blog.  I believe I had

conversations with Alan about this expense being reimbursable under this

policy.  As I recalled, our discussion was that certain expenses would

be allowable if they met the "reasonableness" test and clearly were

additional living expenses.

At the time, none of the officers asked for reimbursement.  We now have

one indicating that he did incur additional expenses in the weeks

following the publication of his home address when he relocated his

family.  He originally was inclined to not seek reimbursement, but now

wishes to do so.

Please advise whether you are in a position to consider such a claim

and, if so, what you will need to review to evaluate whether any

expenses are reimburseable."
This request was received by Human Resources Director Gretchen Beatty, who we figured should have laughed it off, and then paid out to Cicinelli.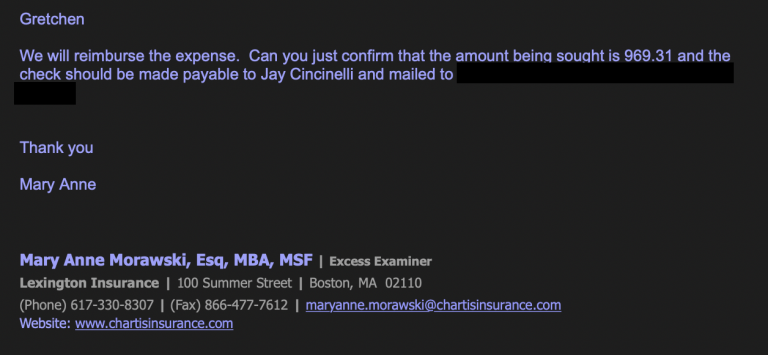 "We will reimburse the expense.  Can you just confirm that the amount being sought is 969.31 and the check should be made payable to Jay Cincinelli and mailed to [redacted]."
The excuse was that somebody doxed Cicinelli but the truth is that somebody ran a public Google search and posted comments around the internet of information readily found on said internet. Hardly an excuse to shell out more money to a guy who just smashed somebody's face in.
Or as one City Staffer put it:

"Maybe he should have thought about all this before he beat a man to death….."