Wolfe and Cicinelli Haunt Thursday Council Agenda
Former Fullerton Police Officers Jay Cicinelli and Joseph Wolfe want their jobs back. More importantly, these two want back pay stemming from their original termination date. On Thursday, the Fullerton City Council will decide if you deserve to have these two upstanding examples of law and order patrolling your streets, and of course if you do deserve the pleasure of Jay and Joe's company, you'll be required to pay for wrongfully terminating their ability to roam the city with a badge, a gun, and of course a taser. . . which in a pinch can be used to "smash the face to hell" of any of Fullerton's malcontent-ed dirty rabble.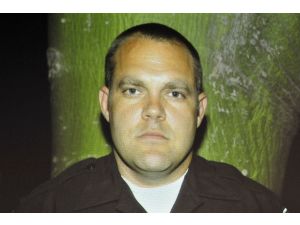 So, do you?  Let's review what it is exactly you deserve in Fullerton.
Do you deserve to employ an officer who flat out refused to answer basic questions concerning his actions while on duty?
Joseph Wolfe did this not once, not twice, but three times. His superior officer asked him three simple questions concerning his behavior while on duty and Wolfe refused to comply.
How do we know? Courtesy of the Office of Independent Review:

Insubordination is a serious offense for any public official, particularly one that includes the potential to dispense deadly force upon members of the community. But hey, our good and friendly former constable thinks you shouldn't really mind. He deserves a simple slap on the wrist for telling his boss to sod off. Fullerton doesn't need cops who obey simple instructions, that's not what we deserve! That's not in the rule book, right?.
Awww shucks, Joe. Maybe if you hadn't participated in beating a disabled person to death, you could have followed three lawfully issued orders.
What about the other one? Do you deserve savagely issues street punishment? We often get a bad rap at FFFF for being anti-cop (which isn't true). These aren't our words. From OIR:

Hey now, "thumping the shit out of him"?  That's just locker room talk. Jay only deserves a slap on the wrist for being a worldwide embarrassment to Fullerton residents and fellow FPD officers. We deserve to have Jay back on the street because we need more savage people willing to dispense real street justice. That's just how we get shit done, right?
Really though. . . insubordination. . . savage dispenser of reputation destroying street justice. . . these are just metaphysics. . . things you think about the morning after while basking in the ether of a beating well delivered. We weren't there, we don't know what really happened, we haven't ever had to make a split-second decision about life and death. What really matters is how an officer does his job.
Fine. Let's look at that. How did these officers do when it came to effecting an arrest of one disabled and disheveled human being who had a hard time keeping his shirt on let alone winning a UFC fight against six well armed Fullerton Police Officers?
First, our buddy Joe:

So, he refused to obey a lawful order three times AND he didn't do his job right the night in question. Interesting. This is what you deserve, Fullerton?
How about our hero, Jay?
Strike one.

Strike two.
Oooooooo, strike three for Jay, one more than knees he delivered to an immobile Kelly Thomas and far fewer than the number of strikes he delivered to Kelly's face, causing Kelly to drown on his own blood. I guess that means we don't even get to discuss our hero's failure to turn on his DAR as required by department policy. Shoot. Jay got canned for not following the rules while he was savagely dispensing street justice, who knew?
Over seven years ago, Kelly Thomas was tortured, beaten, and suffocated to death for the reported offense of refusing to obey a legal order to sit down on the curb. He's dead. That was his punishment.
This week, former Officers Joseph Wolfe and Jay Cicinelli want their punishment for refusing to obey three legal orders and at least three major violations of department policy reduced. Instead, they want their jobs back plus over $2,500,000 in back pay, because that's what they deserve.
On Thursday, we'll find out exactly what our City Council thinks we deserve, too.
Jay and Silent Joe have struck back. When voting for new taxes next year, remember your city council decided these stellar examples of quality service providers are exactly what you deserve.