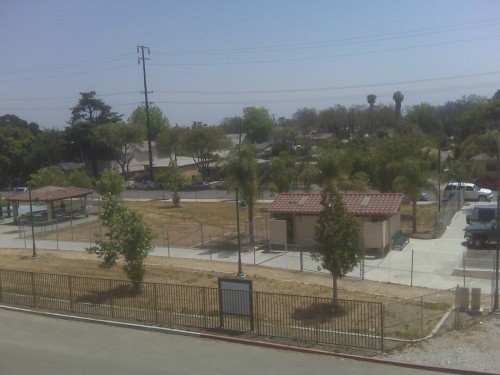 Yes, Friends, the Union Pacific Park (also known in Fullerton as the Poison Park) the project cynically foisted on the residents of the Truslow Avenue neighborhood by City Hall, is still in the news.
Some of our City Council wants you to overlook the 20-year history of dangerous incompetence, indifference and insulting condescension this dead patch of land symbolizes. Instead they want to pretend to give a damn about the residents and their wants and needs; and they want us to believe they are sincere.
They aren't.
In the latest go-round 5th District Councilman Ahmad Zahra agendized, with the concurrence of 3rd District Councilman Jesus Silva, the topic of holding community meetings to discuss with la communidad what to do about the park. This was very strange, very illogical and very disingenuous of these two twits, given the fact that the two of them only a couple of months ago tried to cram a gated private events center, masquerading as an aquaponics farm on the site. These two worthy gentlemen never bothered asking anybody about the impact of this idea from noise to parking issues on Truslow, so it's reasonable to conclude that Zahra and Quirk-Silva don't give a shit about the people in the neighborhood and were just playing games.
1st District Councilman Fred Jung interceded, suggesting that an ad hoc committee be set up to talk about ideas for the park; and this is a blessing. The idea of letting parks staff, the same incompetent boobs who have made an embarrassing mess out of this site, guide sham meetings is appalling. The rest of the Council with the predictable exception of the hypocritical Zahra, agreed to Jung's motion.
Well, here's some advice to this committee, when, and if it is actually appointed and meets: let somebody who has real ideas and who can put this site into the larger context of surrounding industrial land take a swing at this disaster zone. Fullerton Parks staff will only condemn the Poison Park to another 20 years of abandonment and decay.