Slidebar Rock-N-Roll: The Nexus of Nuisance
We're getting used to things like a City Manager involved in a crash getting a free ride home and no questions asked; for years downtown bars and night clubs have been masquerading as restaurants; Hell, we even had one club owner build a room addition on a public sidewalk and get away with it. How many FPD crimes large and small  have been hushed up, made to go away? Who really knows?
But if ever a Fullerton resident wanted to find an example of how there are two sets of standards that apply to folks in our town, he need look no farther than a greasy institution called The Slidebar Rock-N-Roll Kitchen.
When it comes to double standards, no one quite succeeds like Jeremy Popoff, proprietor of the Slidebar.
Even if you are not a boozed up troublemaker from Norco, you may have heard of this place and its owner. This was the establishment from whence came the phony call that eventually cost Kelly Thomas his life five years ago. But this isn't the story of a bar that wanted to get rid of a "nuisance." No, this post is about a nuisance. A big one.
See, the Slidebar transforms into an entertainment venue at various times during the day, and every night. But the Slidebar has no Conditional Use Permit to so operate as required by the Fullerton Municipal Code. Why is that? Most likely because such a CUP would formally require noise monitoring. And there's the problem.
Here's a noise sampling from just outside this venerable establishment:
The Slidebar has been violating both the City's noise ordinances and the noise levels established in the Transportation Center Specific Plan for years. The cops won't do anything about it and neither, apparently, will the people paid to enforce the city's code.
How come?
Stories have been circulating for years that the Slidebar treated Fullerton cops to free food and drink. Is this true? I don't know, but it certainly gives pause – for a lot of reasons, maybe the least of which is an FPD lack of appetite for clamping down on this public nuisance.
And consider this: Mr. Popoff has made it his business to grease the political gears in Fullerton via campaign contributions. Big time. And is it any surprise that this fine establishment regularly hosts election night parties for incumbent city councilmembers?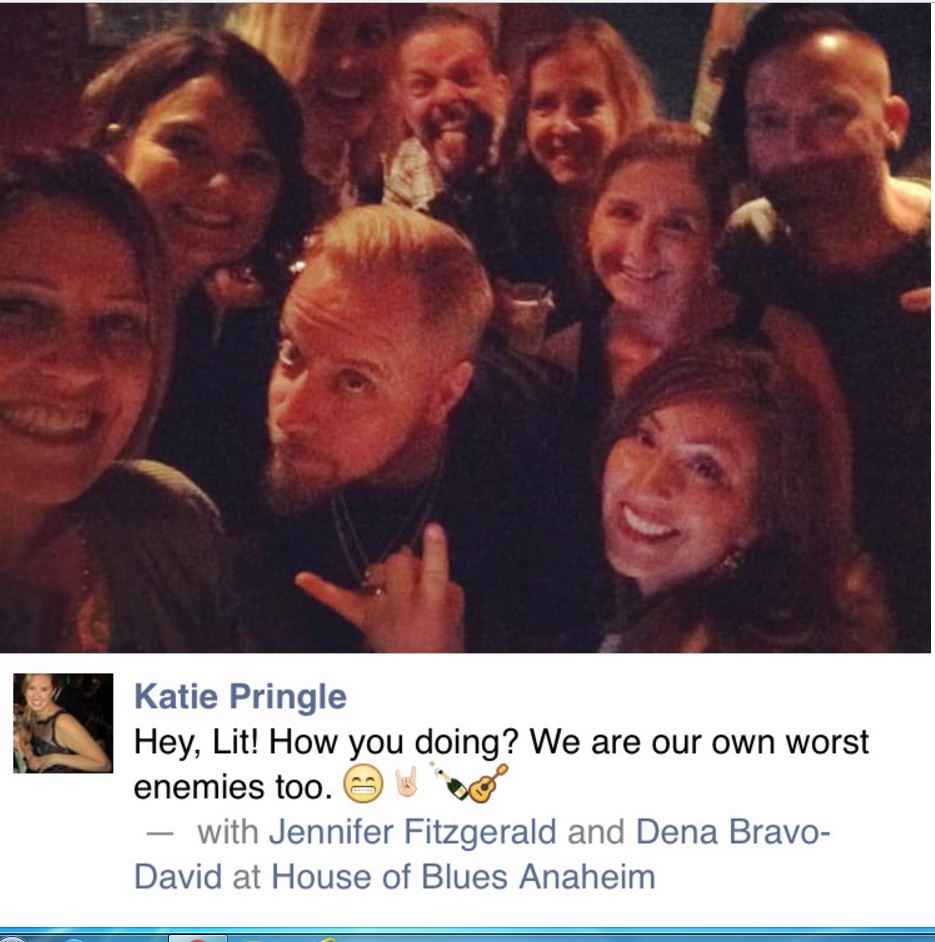 Here's a fun story from the Orange Juice Blog about our lobbyist-councilperson, Jennifer Fitzgerald, partying it up with the Slidebar proprietor, perhaps star-struck by Mr. Popoff's low-grade celebrity and other mysterious charms. This was at precisely the same time that Mr. Popoff became such an expert at demographics and cartography that his districting map was chosen at the last minute by our feeble city council – unanimously. The sole purpose of that map was to illegally carve up downtown Fullerton – an indisputable "community of interest" – into five districts, thus ensuring that the downtown residents would never have a say in the governance of the open air saloon where they live. And the completely nonsensical ballot statement in favor of this gerrymandered embarrassment was written by none other than…Fitzgerald.
But back to the CUP and noise issues: would it be too cynical to suppose that Popoff's connections to Ms. Fitzgerald is one of of the reasons this business continues to break the law with impunity?