Blog reader Pam Keller sent FFFF an email yesterday to alert us of a blatant abuse of County resources to promote a political message against Tea Party activists.
In a video that is presented on the official Orange County government website, children are shown lecturing adults on the dangers of free speech as images of Tea Party activists flash across the screen. If you don't believe us, see for yourself:
Clips of conservative activists are spliced in with displays of violence, including a fight scene from the Jerry Springer show and the infamous headbutt by soccer player Zidane.
Also appearing in the politically-charged video is a still of Republican congressman Joe Wilson in the now-famous incident where he yelled "You Lie!" to President Barack Obama during his health care address.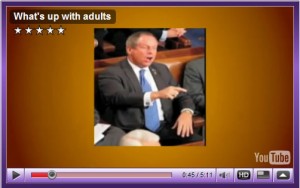 So how did this inciting video end up on the County website? Who paid for its production? Who approved the message and who decided that it was ok to use taxpayer-funded resources to promote a blatant political message?