NICK – WHY NOT SEND A MAILER TELLING VOTERS ABOUT FREE-SPENDING, INCOMPETENT CAREER POLITICIAN CLERK-RECORDER TOM DALY?
Last week Nick Berardino and his goons at OCEA sent out mailers alleging that 4th District Supervisor candidate Shawn Nelson voted in his own business interest to and that he did something for the campaign contributor who owned the Fox Theatre in Fullerton. All nonsense, of course.
These were really lame pieces and probably got Nelson a lot more votes than they cost him. But this effort was quite revealing in that it demonstrates the utter hypocrisy and self-interest of "Bullhorn" Bernardino and his crew.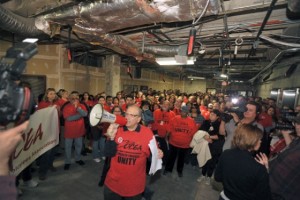 While this guy is making up stories about Nelson, he has turned a blind eye to a real government miscreant, County Clerk, Tom Daly whom we have busted giving jobs and no-bid contracts to friends and relatives of contributors, as well as pitching over two million bucks into the worthless property at 433 West Civic Center Drive. Oh yeah, and then there was that $48,000 contract given to another campaign contributor to "study" a sports hall of fame.
The OCEA has watered Tom Daly campaigns with more than $4000 over the years, no doubt hoping the investment would some day flower into something that looked like a county supervisor. Instead it helped create an incompetent little emperor that has no accountability, no oversight, and whose fiefdom is rife with cronyism and kickbackery and wasted millions.
I would love to believe that Berardino meant to put Tom Daly's name on those mailers because I would love to believe that Berardino was venting his righteous anger at the wrong candidate.  Yeah, right! The County's public employee unions are going after Nelson because they are terrified of a real Board majority that will institute permanent and meaningful pension reform and conduct responsible contract negotiations.
But who knows? Someday maybe the OCEA will stand up to real corruption – even on the part of a Democrat. If they ever do they know where to come to get all the info they need. But I'm not holding my breath.