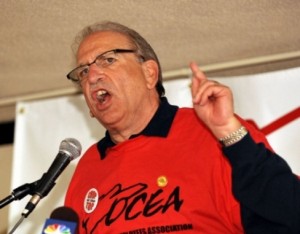 There is an old axiom that says all politics are local. Nick "Bullhorn" Berardino, chief union goon of the Orange County Employees Association seems to have forgotten that adage. Maybe he never heard it.
A week or so ago week his union sent out a mailer accusing Fullerton's Shawn Nelson of voting to spend money on a "red-tagged" building. Too bad the building was Fullerton's historic Fox Theater, a structure whose restoration thousands of Fullertonians support and to which hundreds, including Nelson, have made personal donations. The mailer provoked this letter that appeared in the mid-May Fullerton Observer: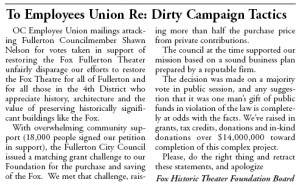 Oops. Looks like Berardino has really soiled himself this time.
Retraction? Apology? Not very likely, guys. See, Nick Berardino and his crew operate in a whole different environment that you might imagine. In Comrade Nick's world you grab and grab and keep grabbing all you can get while giving as little as possible in return.
And that's why Orange County's finances are so messed up, why County departments are run so poorly, and why the OCEA is absolutely terrified of a Shawn Nelson victory.