Fullerton Lacks Brains to Become SmartCity
You may have noticed your streets getting torn up by dudes in personal vehicles lately. That's because Fullerton is set to become the country's largest SmartCity in the typical Dumbest Ways Possible that we've come to expect from our dear leaders.
By way of example, let me share some of the best work which was done on my street:
I'm not being facetious. This is literally some of the best work they've done in town that I've seen.
In one neighborhood they removed concrete to install an access box, cut it unevenly and then filled the space with… asphalt. They couldn't even be bothered to finish it properly.
But don't worry I'm sure we'll get some oversight on this slipshod work the same way we got oversight with the Stairs to Nowhere. Oh. Wait. No. We were given excuses and bloviating exhortations about how much people love to exercise on the stairs so that meant quality work was out of the question.
If these contractors screw up our roads who gets held accountable? Who's fixing the problems?
Likely nobody sadly.
But for the sake of it, indulge me in a little history of how we got here.
This goes back to 2014 with the council voting 5-0 to grant an easement to SiFi networks, a privately held company that promised to make us the most awesomest awesome SmartCity that ever awesomed. Our City Staff crowed about how awesome it would be and the project was approved and began ever so slowly. In that time we've gotten rid of the useless and feckless Economic Development Committee that this went through, the head of said EDC and City Manager lackey Nicole Bernard has left Fullerton, City Manager Joe Felz… well, Joe Felz'd into Sappy McTree. The head of Public Works Don Hoppe has been replaced by a non-engineer and so on down the list we can head.
The only folks, as of today, who had approval on this project that are still in office or working for the city are City Councilman Bruce Whitaker and the utterly corrupt and incompetent City Attorney's office of Jones & Mayer. That leaves us with who is overseeing the work today because as far as I can tell, granting an easement doesn't grant the right to destroy our roads or screw up our sidewalks.
The company doing this isn't a fly-by-night operation either. This is a network of companies with deep pockets screwing us right now. Lets to run it down.
SiFi networks is a privately owned company that is being financed through global infrastructure venture fund Whitehelm Capital. These are the people who are themselves contracting with construction crews to tear our streets apart to put in fiberoptic lines for fast internet service.
SiFi will then sell access to those fiber lines to the re-selling company Ting (& in other cities GigabitNow). Ting is who we have the option to buy service from and they are a wholly owned subsidiary of Dish Networks through Tucows.
Our city agreed to this project, without oversight of the actual work being done apparently, despite the deep pockets looking to take us for a ride.
The selling point is that they are offering "Gigabit" internet speeds which means 1000 Mbps or, well, pretty fast, and they claim they're cheaper than anybody else. In looking at their pricing they run $79/mo + $9/mo for their modem. In contrast, AT&T in my area is offering $60/mo + $10/mo for their modem. Install fees vary and if you do or don't want a yearly contract seems to be the biggest talking points. There is also the issue of data caps but this won't impact most people because AT&T offers a lot of data in their basic plan that most people won't use. I'm a part-time gamer and I watch a TON of Tv/Movies and have never breached data caps. Spectrum's website indicated they were more expensive which is odd b/c I pay slightly less than AT&T and haven no data caps. I'm coming in at about $20/mo cheaper than Ting is offering.
Even if you factor in AT&T's installation fee, which I've never paid after haggling with the rep, they still come out cheaper than Ting.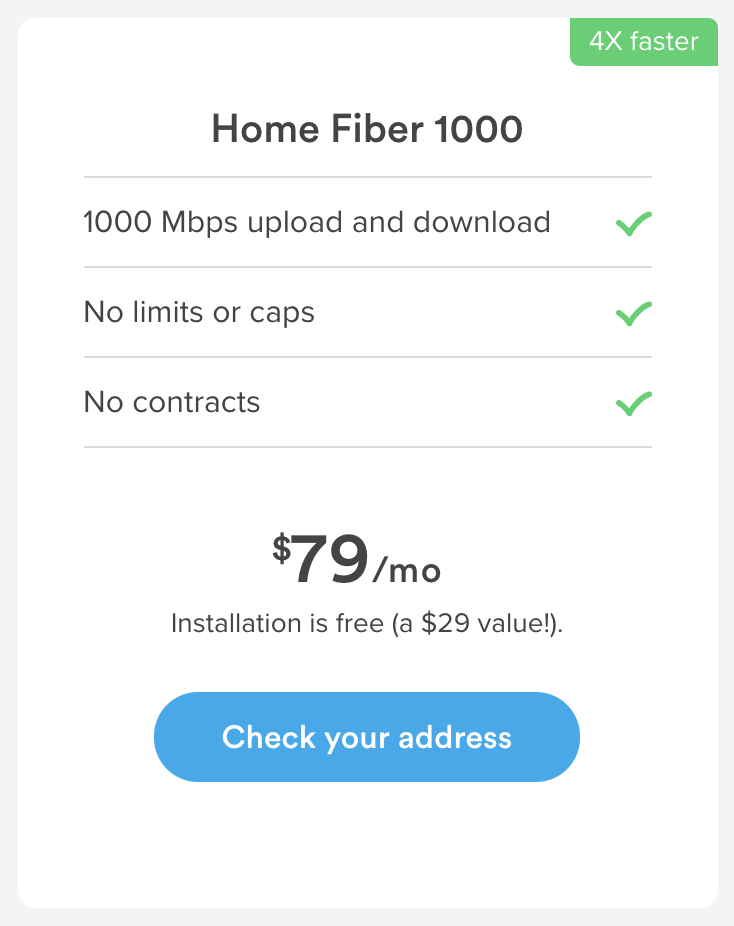 If the pricing is HIGHER, is Ting at least a better company? Well, no there is no evidence of that. Ting has a rating of 2.5 stars on Yelp but they're mostly a wireless cellphone re-sellser of T-Mobile lines so that has a lot to do with their nonsense. Their actual reviews on their internet service are few and far-between.
If the service provided by SiFi on our streets is any indicator of the service we can expect from Ting, I'd recommend opting out and sticking with the devil you know in AT&T, Verizon, Spectrum or whomever.
While I'd like to point to corruption and graft as the culprits for the incompetence here, I think Occam's Razor tells us it's just good old fashioned Fullerton City Hall incompetence.
One good thing is that as she's leaving our council today, Jennifer Fitzgerald has finally managed to keep her word of ruining over 8-miles of road in a year. Oh. She said fix. Damn. Nevermind.