God-awful "Fox Village" Gets Even Worse!
http://www.youtube.com/watch?v=tUWTXt0TRkQ
Remember those horror movies when the outraged villagers grabbed their pitchforks to have at the monster? What the "Fox Village" monster could use are a few more angry villagers.
At the City Council "workshop" on Tuesday the new plans for the existing city-created empty space behind the Fox Theater were rolled out. And while the reception by the public wasn't pretty it wasn't enough to kill off the monster, either.
What was rolled out were several elevations that raised the curtain on a hideously confused jumble of themes and materials that were supposed to be modernish, but that had that certain flavor of architectural renderings done by crazy people.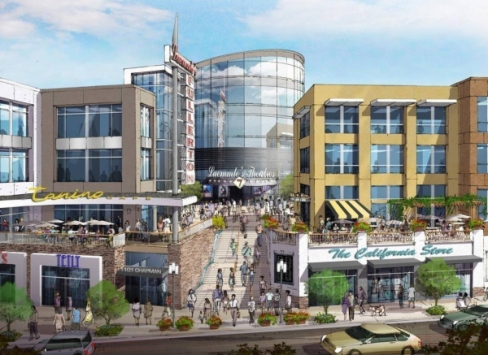 A hodgepodge of shapes and veneers with no apparent cohesion and not a whiff of aesthetic originality. Stone veneer on the first floor obligatory.
Have Fox Villagers gone insane? What a mish mash!
Why are they still trying to move McDonald's? Didn't the Council put that idea to rest? And yet here it is again! Can anyone say "insubordination"? Guess not – in Fullerton! And look a parking lot on the corner. Just what downtown needs – another permanent hole in the building fabric of downtown Fullerton.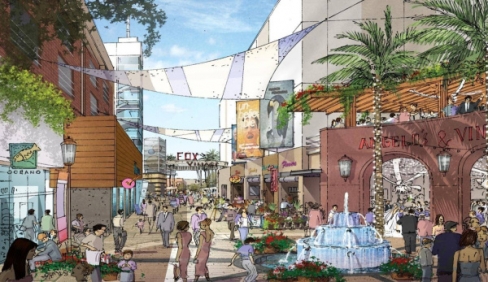 Ah, the inevitable "pedestrian paseo." Just lookit all the happy, bedazzled consumers. And that fountain! Precious. Makes you want to make a wish and toss three coins in.
Folks if you aren't ready to go grab your pitchforks by now, we suggest that we stick a fork in you –  because we think you're done.