Fullerton Fire Would Rather Watch Placentia Burn
Well folks, once again the Fullerton Fire Heroes are putting their union above your safety & spreading propaganda to do it.
Check out this "Community Update".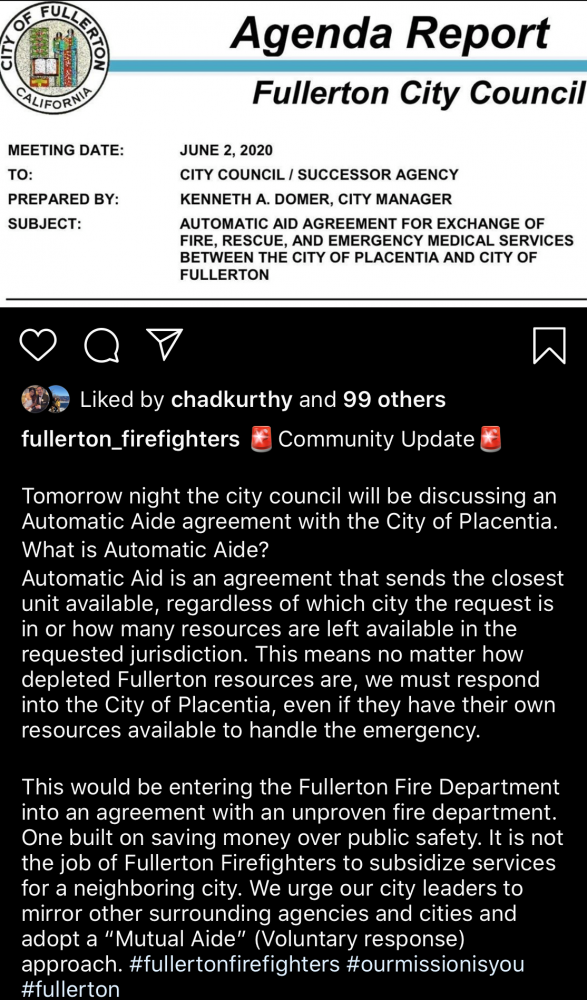 Placentia changed their fire service to save money because the constant mercenary screaming from the Unions have bankrupted their town, much like our own. So Placentia opted to outsource medical calls to an ambulance company. Seems logical, but logic and these unions are mortal enemies.
Ultimately this "Hero" Union is mad because under the Placentia model they no longer get to play Uber for Paramedics who respond to the vast majority of calls.
85% of ALL fire calls in Fullerton are medical. There are AT MOST 2 paramedics in a unit of 4 heroes. That means that 85% of calls, 50% of our responding fire department is playing Uber & standing around. They stand around more at the hospital as they wait for the patient to be admitted or discharged. There obviously has to be a change to how this is done and calls are handled. This is just a vast waste of time & resources.
But nooooo. The Fullerton Fire Department wants to scare you with "unproven fire department" when FFD likely trained alongside some of those very same Placentia Fire members they're worried are "unproven". Placentia has to follow all of the same State Mandated Fire Safety protocols. They also hired a well credentialed & proven Chief to lead their new department.
Keep in mind that Fullerton Fire has no problem having a mutual aid agreement with OC Fire – the very entity that managed to let their own Fire Station burn down in the rain.
So much for "proven".
Fullerton Fire would rather let Placentia residents risk life & property than have a mutual aid agreement with them and they'd rather let your house burn & your life be lost than let Placentia come here to offer assistance if they're closer to your emergency.
Fullerton Fire, who will show up en mass to tomorrow & park all of their trucks in front of City Hall to bully their point of view, cares more about their wallets than your safety and this "community update" is proof.
All because the Placentia model scares their union. They're scared that Fullerton residents might get tired of broken roads and a crumbling city propping up those Giant Bro Trucks in the parking lot & the Sweet, Sweet Benefits they enjoy.
Enough.
Tell City Hall to support Placentia and that our neighbor on the other side of CSUF can count on our help if needed. It's time to put a stop to these Union lies & this blatant disregard for doing what's right.
If the City votes against helping Placentia, we need to make sure to vote against this Council.