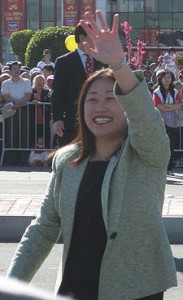 The Chairwoman Dances
Yesterday we related how Board of Supervisor Chair, Janet Nguyen, Supervisor for the 1st District, has taken into her noodle to employ two new folks in Chris Norby's former 4th District office – even though there is no supervisor there.
Now we are informed that the OC Register's Jennifer Muir was calling around the Hall of Admin later in the day and asking about the new staffing arrangements.
Geez, pretty soon the Register may just have to give FFFF its own column.