Carpetbaggers Skip Out. Leave NUFF Holding Bag
The other day we mentioned the 4th District Supervisor candidate forum sponsored by Neighbors United for Fullerton (NUFF) held tonight at the Fullerton Main Library.
The Register's Jennifer Muir is the moderator and has posted a piece about the event, here. Apparently two of the would-be Supes aren't going to be there; and coincidentally both – Harry Sidhu and Lorri Galloway are carpetbaggers. Harry is pretending that he lives in a crummy pink stucco tenement behind the Linbrook Bowl; Lorri that she lives in an old relocated house converted to professional use on the busy corner of Lincoln Avenue and East Street.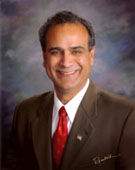 Harry's a no show.
Sidhu's excuse for skipping the event is pretty standard: out of town on business. Galloway, on the other hand refuses to attend because the filing deadline hasn't arrived and and she says one of the candidates may not be running! She asks for a re-schedule after the deadline!
Galloway is used to having people bend over backwards to accommodate her, but she can't be serious. Does she really want to reschedule? Or could it really be that she's not quite sure how to handle the carpetbagging and residency issues that her political ambitions have created; and that she has such a feeble grasp of County issues that she wants to avoid humiliating herself. Come to think of it, Harry won't be able to bring his ghost writer with him and he could be in for a rough time improvisation-wise.
Either way, north Orange Countians are going to miss an opportunity that Anaheim council watchers enjoy twice a month: to actually see Sidhu and Galloway in action.  Apparently the show is entertaining.