Sordid Cop Tales: Former Police Chief McKinley Loves Sheriff; Climbs Into Bed
10:50 Update: TDR forgot to add this little gem from the Register's Jennifer Muir about Hutchens sending a helicopter to an LA cop chili "cook-out." Wonder what Pat thinks about that use of public resources! – Admin
A recent Fullerton Observer article reported on some sort of "Women in Leadership" event and started out describing how Fullerton's former Chief of Police introduced "surprise guest, " appointed OC Sheriff Sandra Hutchens in glowing terms and indicated his unreserved support for her election campaign.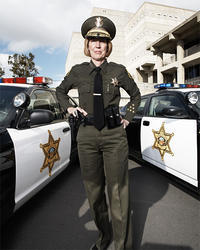 We're not at all surprised by this enthusiasm since McKinley has been reported as having post-retirement political ambitions, and has already demonstrated his connection to the local Reguglican establishment by his endorsement of the fraudulent Ackerwoman campaign. 
Apart from political ambition, though, something more sinister flits through the shadows of the McKinley endorsement of Hutchens, and that is McKinley's apparent ingrained approval of high-handed and unaccountable police behavior. Despite McKinley's contention that Hutchens has "turned things around" after the departure of the deplorable Mike Carona, there is precious little evidence that any institutional attitudes have changed at all. In fact, quite the contrary. From examples of in-house secrecy and stonewalling, mistreatment of citizens, to even spying on elected County Supervisors, the Sheriff's Department has shown itself to be the same old operation as ever. The only difference is that now Hutchens is running cover instead of Carona.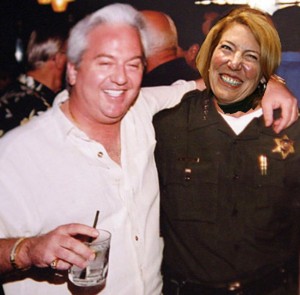 The latest example is provided by the OC Weekly's Scott Moxley, here. It seems a couple of deputies were caught fabricating testimony about threatening a suspect during a Disneyland area drug bust at a preliminary hearing. The DA later dropped most of the charges against the guy who had been arrested; correspondence from the DAs office to the Sheriff about the problem were simply ignored. The deputies involved not only seem to have escaped disciplinary action, but have been awarded medals for valor for a Costa Mesa drug bust that supposedly occurred on the same day as the other arrest! 
Here's Moxley's curt summaton:
The sheriff, who has promised to restore deputy accountability in the wake of the Mike Carona corruption scandals, refused to be interviewed for this story. Her command staff and media-affairs team repeatedly blocked my attempts to reach Catalano for comment.
Anyhow, in case we needed any other evidence, we now know exactly what kind of police management our former Chief admires, and we ought to remember that when and if he decides to run for office.