In a recently discovered set of claims [Link HERE] it is being alleged amongst other things that the Fullerton Police Department, up to and including Police Chief Dunn, retaliated against a former officer for exposing wrongdoing and corruption.
The Officer is claiming targeted harassment.

Is Fullerton now in the business of retaliating against women to hide corruption? Has our city stooped so low as to attack whistleblowers?
There's a lot to unpack here but first…
I should probably mention that the officer in question is former Lieutenant Kathryn Hamel and that she's claiming that Chief Dunn gave us, the Friends for Fullerton's Future, info about Hamel in violation of several laws.

Let that sink in.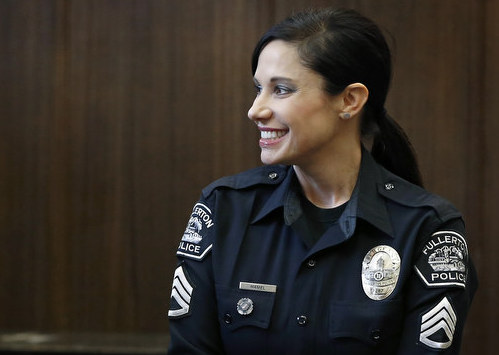 Did Chief Dunn give us the very information that the city is suing us for having posted? Inquiring minds want to know.
If nothing else, seeing Hamel claiming damages for a million+ samoleans does seem to explain why the city is trying to shift the blame onto us for their gross negligence. Not that that plan is even going to work.
Her claim states that even IF Chief Dunn didn't expressly retaliate against Hamel, the city is still screwed for being negligent (which by their own accounts in their lawsuit against us – they were).
Officer Christopher Wren, the dude who was seemingly banging his subordinate in a PD bathroom, is likewise claiming damages from the City of Fullerton over FFFF reporting because it's his right to use his department issued phone to send nude photos while on the job without you knowing about it.
These claims for damages, usually the precursor to lawsuits, are just more examples of completely avoidable stupidity chalked up to the incompetency of Jones & Mayer and City Staff. Not to worry though, Jones & Mayer has likely investigated Jones & Mayer and found they did nothing wrong and will rectify these problems by billing the city countless hours (at $200/hr) to cover up for their own ridiculously negligent behavior.