What Happened to Officer Christopher Wren
Some of you may remember the story of Officer Christopher Wren, the FPD brother in blue who pled "no contest" to a list of charges back in 2009. That wasn't enough to get him booted from the force then but it appears he's off the force now.
So what happened? What would possibly be worse than false imprisoning somebody?
An affair with a subordinate.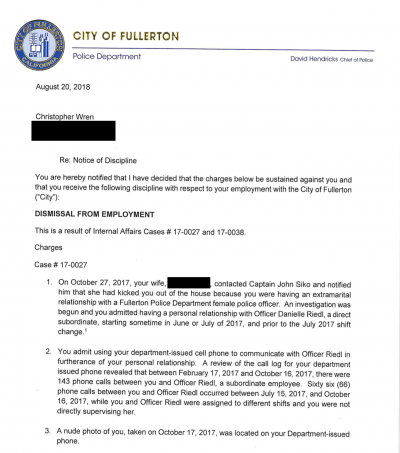 The department learned about the affair when Wren's wife threw him out of the house and a subsequent investigation took place. During the course of this investigation some things were learned and #3 is a fun note.
"A nude photo of you, taken on October 17, 2017, was located on your Department-issued phone".
One has to wonder how common this problem is around the station and on department-issued phones.
Based on this report these officers, while on duty, just ignored dispatch and the city they were supposed to be "serving and protecting" so they could "talk" about their dalliances. Sometimes for hours at a time.
The list continues.
Let's look at #10 for a second.
"while on duty and in uniform and in a women's restroom at the Fullerton Police Station… you met with Officer Riedl for several minutes to discuss your personal relationship"
They met in the women's restroom for several minutes to "discuss" their relationship. Is that what the kids are calling it these days?
Finally Officer Wren made a point to "confront" Officer Ramek about their "respective relationships with Officer Riedl".
It would appear that there was quite the love triangle happening at FPD and that despite the department policy on notification of any such relationships (specifically the subordinate one) it was only discovered once Wren's wife notified FPD that she threw him out of the house.
Based on FPD's history this looks like classic turning a blind eye to policy until it becomes a problem too big to ignore. Here's the relevant policy:


We're not sure what, if anything, happened with Officers Riedl or Ramek or how many "discussions" are still happening in the FPD women's restroom at this time. As more information is released we'll be sure to share it.