Fullerton's Veritable Serpico Problem
Fullerton, like most departments, has a problem reminiscent of Serpico and this problem is years in the making. This problem is part of the story of the sordid "Culture of Corruption" that was documented after the Kelly Thomas beating. This veritable Serpico problem is a cancer within the system where once in uniform even good people turn a blind eye to corruption and stand idle as their unions and water carriers work to stomp on both people working towards and laws aimed at transparency.
For those unfamiliar with Frank Serpico he was an officer in the NYPD who stood up against widespread corruption and suffered for this crime against the Blue Wall of Silence. When he was shot in the face in the line of duty his fellow officers went so far as refusing to call for help.
This reverse Serpico problem is the common issue of Officers refusing to speak out, refusing to stand up and refusing to be good ethical humans for fear of reprisals from their brothers and sisters in blue.
Today I want to tell a story that should have been told some time ago – the tale of how ethics can get you fired at Fullerton PD.
I'd like to tell you about one Corporal Paul Irish.
You see, Corporal Irish was fired for dishonesty. A year or so ago I spoke to Paul and I was given copies of the files related to his termination. Honestly I didn't know what to do with what he gave me and I sort of let it sit waiting for the time to really dig into it. Life, kids, you know the drill. That box sat in my garage patiently waiting for me to have time. Skip ahead and, well, the city cost me my job recently and I find myself with more time on my hands. So I got to reading.
To sum up hundreds of pages of paperwork — what Corporal Irish DID was, allegedly, tell his supervisors he was giving a talk on seat belt safety when he actually gave a talk on ethics. When they hammered him for his dishonesty on what his talk was about they ran a full investigation into the issue which ultimately led to his termination for more alleged dishonesty.
The transcript of the talk is [HERE] and the actual audio as recorded by Corporal Irish is here;
According to the information I have seen, these are the charges for which Corporal Irish was fired:
PSB #2014-72​IA Investigation
Corporal Paul Irish
Potential Policy Violations:
​340.3.5 (g) – within policy
​340.3.5 (h)
​340.3.5 (i)
​340.3.5 (l)
​340.3.5 (n)
​340.3.5 (z)
Recommendation to Staff: Not within policy – Termination Approved
That's a bunch of jargon so I'll allow the Fullerton Police Department's Policy Manual chapter on Conduct explain all that legal speak:
(h)Knowingly making false, misleading or malicious statements that are reasonably calculated to harm or destroy the reputation, authority or official standing of the Department or members thereof.

(i)The falsification of any work-related records, the making of misleading entries or statements with the intent to deceive, or the willful and unauthorized destruction and/or mutilation of any department record, book, paper or document.

(l)Any knowing or negligent violation of the provisions of the department manual, operating procedures or other written directive of an authorized supervisor. Employees shall familiarize themselves with and be responsible for compliance with each of the above and the Department shall make each available to the employees.

(n)Criminal, dishonest, infamous or disgraceful conduct adversely affecting the employee/employer relationship, whether on or off duty.

(z)Any other on-duty or off-duty conduct which any employee knows or reasonably should know is unbecoming a member of the Department or which is contrary to good order, efficiency or morale, or which tends to reflect unfavorably upon the Department or its members.
Remember, this all stems from Corporal Irish giving a talk on ethics that his supervisors didn't approve of him giving and being mad at being "lied to" about said briefing.
Here's the pertinent part of the Hearing Officers Report: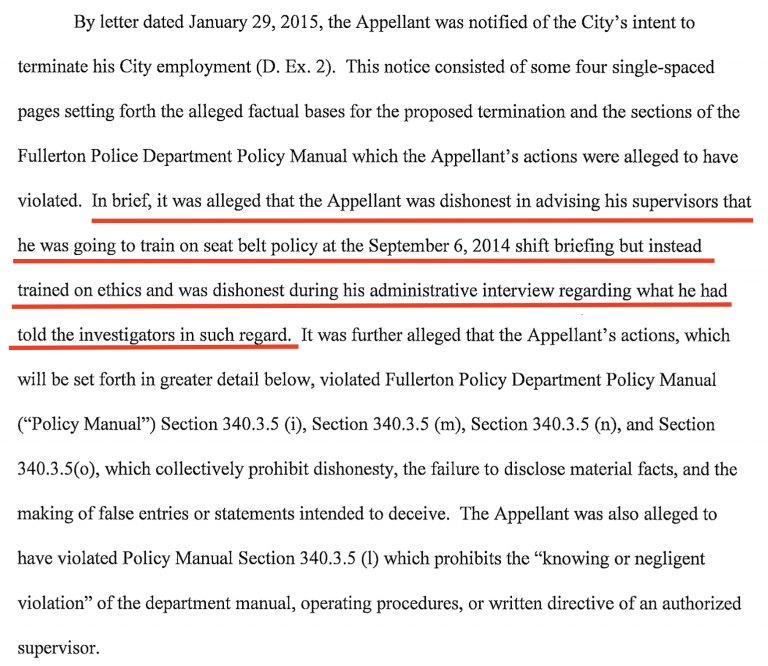 This should be put into some context with current events in order to explain the aforementioned Serpico problem. When some cops are fired for seemingly trivial issues while others are given a pass for egregious conduct it sets bad examples. It tells Officers who to follow, which lies are okay and where things stand in regards to the Blue Wall of Silence. This is how a cancer grows in a department. A blind and subservient government is how it remains untreated and metastasizes.
This year, thanks to this blog, we learned that Fullerton PD and Fullerton City Hall worked to enter into an agreement in order to shield Lieutenant Kathryn Hamel from the disclosure of her crimes. The city was willing to stop investigations in order to protect her, the wife of Irvine Police Chief Mike Hamel, from any sustained findings of dishonesty which would have made her crimes public records under the CA law known as SB1421.
Currently there is an also an officer, Jeff Corbett, being charged with a felony for falsifying his reports as related to the drinking and driving of former Fullerton City Manager Joe Felz in November 2016. That Sergeant was only terminated after a friend of this blog filed a citizen complaint which triggered an investigation which led to a sustained finding of dishonesty. Only AFTER that investigation was concluded in September of 2017 did FPD open their own investigation and terminate Corbett.
These are current issues at the Fullerton Police Department as ignored by our current City Council, City Hall and police brass.
The hearings over Irish's termination went through 2016 and well into 2017 while Sergeant Corbett was being given a pass for clearly violating department policy during the Felz incident. This is at best an inconsistent application of policy and a strong indicator of favoritism in the department – ergo, cancer.
If you think I'm being hyperbolic about comparing Paul Irish to Frank Serpico in premise, in the notion that the Department will crush one of their own to cover their corruption or incompetence – remember that I'm being sued, along with David Curlee and this blog, for allegedly clicking links and posting stories that showed police misconduct. Stories that showed the Kathryn Hamel deal. A story about a pervert cop at Fullerton High School that FPD and City Hall wanted kept secret. The city has never disputed those stories, or others – they've just demanded we remove the truth from this site while defaming us as thieves and hackers.
Your tax dollars are being used to punish us not because we allegedly clicked links and thus broke a federal law in the process. We're being sued because we, yet again, embarrassed Fullerton PD by pointing out corruption and malfeasance and my records requests, if fulfilled as required by law, would embarrass them further. They're using your money and the courts to intimidate and attempt to silence us because we again stepped out of line. We got in the way of the Blue Wall of Silence and both those in uniform and those in charge at City Hall are too self-interested and too cowardly to stand up for what is right. Too worried about their pensions, campaign dollars and cronyism to be ethical. They preach integrity and practice treachery.
Sadly the tale of Paul Irish is just another in a long line of such stories. A story of the government using it's weight to silence dissent. A story about government arrogance crushing a voice even when it comes in the form of an officer talking about the things the Police Department hypocritically displays on their own walls. Ethics used during times of convenience are no ethics at all.