Tanned rested and ready, after a 9 week hiatus, Don Bankhead, retired police captain, stumblebum, incompetent, tired, phraser of spoonerisms, and the only man in the 162 year-old history of California to be recalled from the same office twice, is back.
Yes, indeedy, recently ousted Fullerton councilman Don Bankhead filed papers yesterday to run for city council this fall – marking his tenth election to get or hold that esteemed position.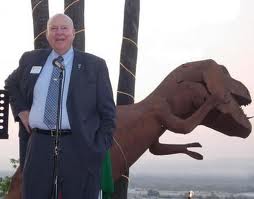 You really have to wonder what motivates Bankhead at this point, if anything beyond senile stubbornness. Who he thinks his supporters are is hard to fathom. Perhaps he was encouraged by a room full of cops and cop apologists wearing blue shirts. Blue is Don's favorite color. Does he believe the FPOA and the fire union will back a clueless octogenarian exhibiting signs of evident cognitive dissonance? Well of course they will!
Still, it will be interesting to see which cruel, thoughtless persons signed his nominating papers.
In a way it's sort of sad to see a man whom time has so evidently passed by deny the reality: two thirds of the voters in the recent Recall voted to get rid of him.