Attorney Mark Cabaniss has provided us with more expert analysis on the potential prosecution of the Fullerton police officers responsible for Kelly Thomas' death:
It is getting close to decision time for the DA in the Kelly Thomas case.  While the investigation is still not completed and must be before any charges are brought, if any are brought, some of us are nervous, and increasingly disturbed at the way things are going, or not going, and at the unseemly deference given to the six police.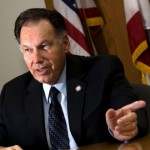 Unfortunately, in public pronouncements about the case, the Orange County DA's office has sometimes given the impression that they are on the side of the police, even though the police are the criminal suspects.  This is unusual.  Usually the DA is on the side of the people, and against the alleged criminals.  Usual prosecutorial practice is to charge as many people as possible, with the most serious charges possible, in order to create the most leverage for the DA to get people to plead guilty and settle the case without a trial.  For example, in a case with multiple defendants, the DA might make a deal for one or more defendants to agree to testify against the other defendant(s) in exchange for reduced charges, or even outright immunity.  And in every case the DA charges the most serious charges warranted by the facts, so that he can get the defendant to plead guilty to a less serious charge, in exchange for getting rid of the more serious charge.  But in this case, the Kelly Thomas case, the DA has set a pattern of preemptive surrender, conceding points to the (possible) criminal defense even before any charges are filed, indeed, even before the investigation is complete.