Posts Tagged Fullerton Incompetence
Posted by Joe Sipowicz in Behind Closed Doors, Corruption, Curt Pringle & Associates, Doug Chaffee, Former Fullerton Councilmembers, Fullerton City Council, Fullerton City Council Candidates, I Aint a Swallerin That, Law N Disorder, Liar, Pilfering Paulette, The Crime Beat, The Culture of Corruption, Union Goons, Watch Your Wallet on June 24, 2020
Rumor is circulating that our Mayor-for-Hire, lobbyist Jennifer Fitzgerald isn't going to be running for election to represent District 1 in Fullerton this fall. Good news, indeed, if true, for those who care about honest, competent government.
But is it true? No pronouncements have been forthcoming from the woman herself which suggests that the rumor isn't true, or that the influence peddler is going to try to slide in a candidate of her own choosing – one who may just be amenable to continuing the Culture of Corruption in the FPD and the Culture of Incompetence in City Hall.
What her departure might mean for her future value for the swamp known as Pringle and Associates remains to be seen.
Well, I guess we'll know in about six weeks. And if Her Highness is just playing games and is going to run after all, we'll be reminding voters of her:
Promise to take no pay or benefits, and then doing just that.
Lying about a "balanced budget" for years while depleting reserve funds to pay for ever-greater pension obligations.
Covering up the drunk driving of her best buddy, City Manager Joe Felz, a spectacle that has embarrassed the City, ever since.
Ignoring the roads of Fullerton until they have become the worst in Orange County , as determined by the OCTA.
Presiding over the shoddy or incompetent  construction of vanity projects that put money in the pockets of her campaign contributor.
Working as a lobbyist while representing the City of Fullerton.
So bring it on Jen.' We've been paying attention and we're gonna make sure your neighbors know all about your record. Stooge endorsement from recalled former council buffoons, corrupt liberals and government camp followers and a new tsunami of prevarication ain't gonna cut it in 2020.
Posted by Mr. Peabody in Arts & Architecture, Bruce Whitaker, Chronic Failure, Former Fullerton Councilmembers, Fullerton City Council, Gin Flurry, Greg Sebourn, Jennifer Fitzgerald, Jesus Quirk Silva, Joe Felz's Wild Ride, Our Town, Parks and Trails, Setting The Bar Low, Something Wicked This Way Comes, Watch Your Wallet on January 13, 2018
Back in May, FFFF documented the lamentable construction disaster of the Pinewood Stairs, a $1.6 million boondoggle created by City staff, whose construction defects were so bad and so plentiful that a reasonable person might even inquire about how we could get our money back. In fact, City Councilman Sebourn mumbled something about getting our money back, then said he was just kidding. Bruce Whitaker said nothing at all. On Facebook City Hall bureaucracy advocate Gretchen Cox cooked up a story about some alleged City "report" that exonerated all concerned.
Nine months have passed and I thought it might be interesting to revisit the site of the fiasco and share a visual tour to take another look.
Here's a typical example of a project with nobody in charge and nobody who knows what they're doing.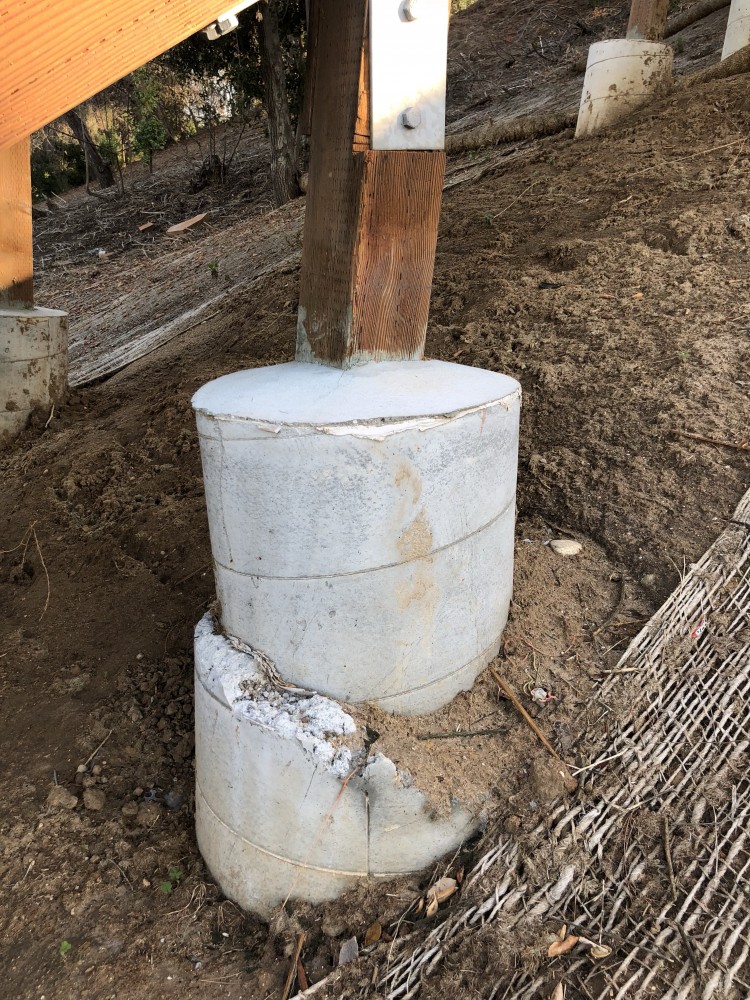 The caisson footings with the wood posts are almost all cracked; some of the posts aren't even vertical. Some of the caissons are out of plumb, too.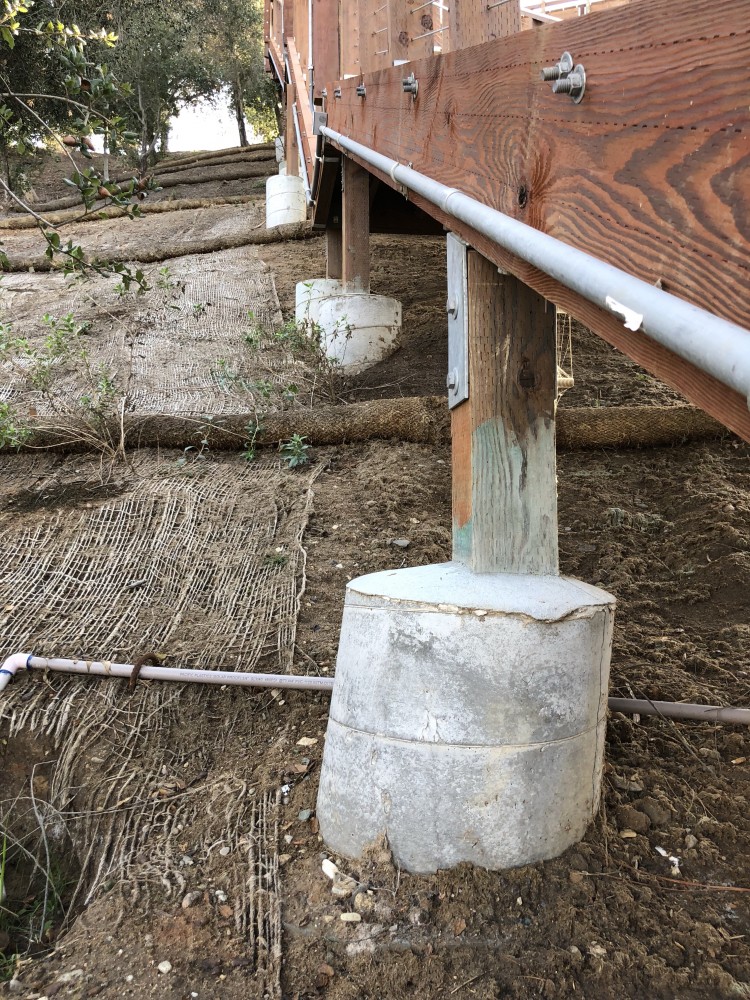 Aspects of the construction reveal building that was cobbled together to make the contraption fit together.
Now, as then, the wooden rails are extremely rough and splintiferous.
The lack of quality workmanship, structural and cosmetic remains in evidence. And those fraying cable ends? Why, they've been taped! Of course the tape is falling off.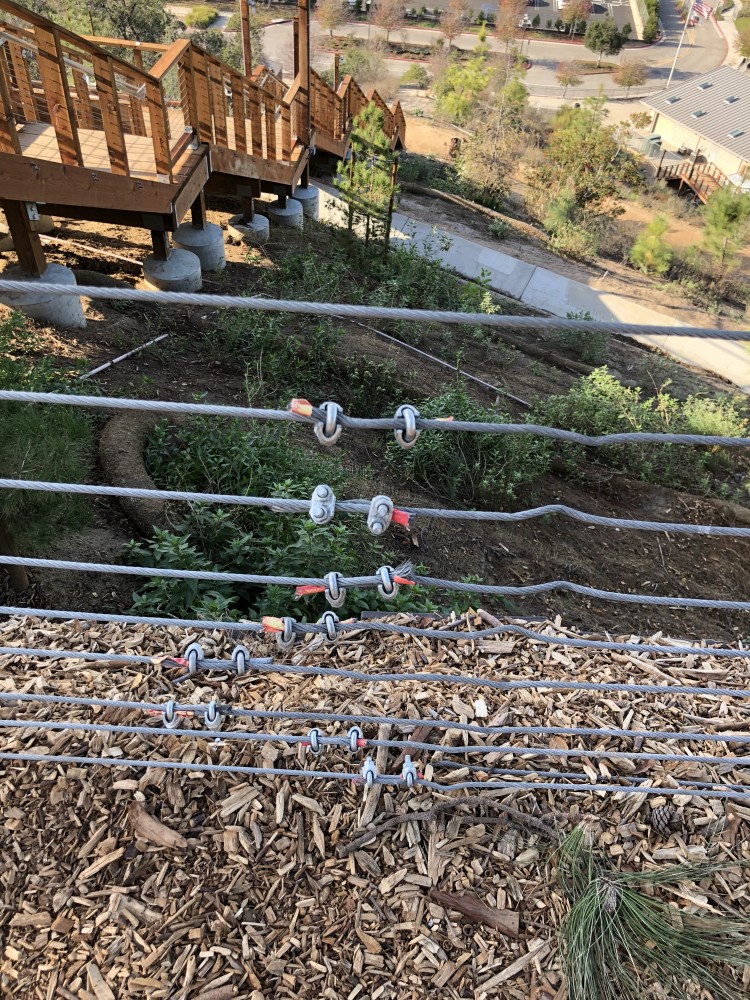 Simple things – like removing the cardboard tube form from the caissons seem to have eluded the City's crack inspection team. Crack. Get it?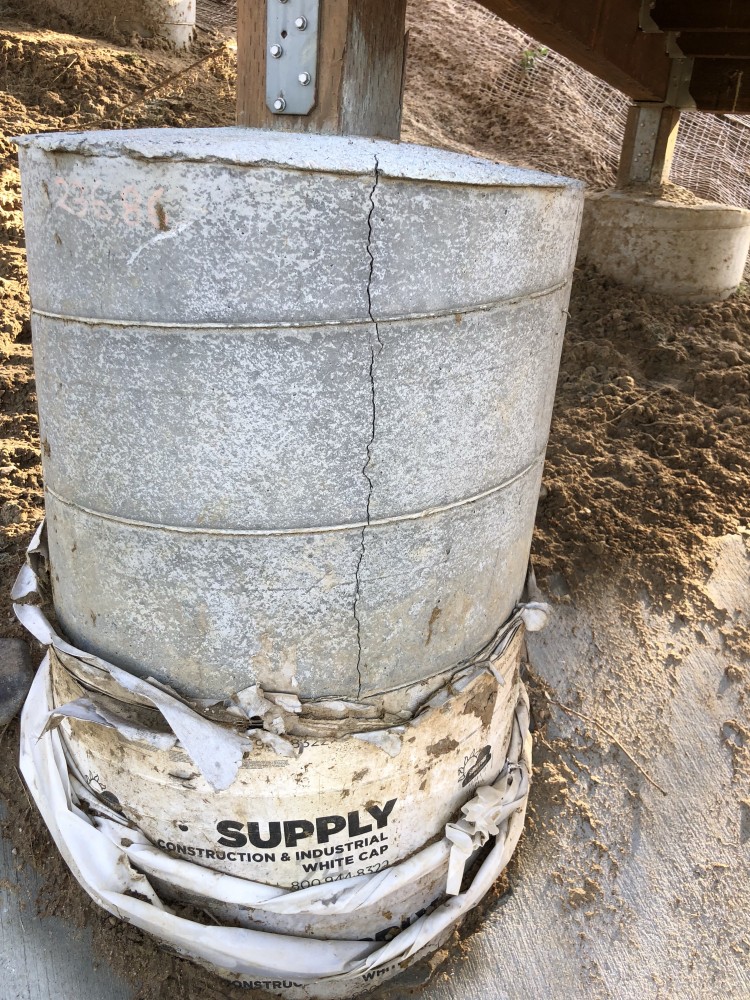 Basic design oversight problems were jerryrigged and never addressed properly at all.
Weird features that are nothing but potential for risk management headaches and taxpayer payouts are still much in evidence – like this trip hazard. Shrug, indeed.
Loose cables. Down the hill goes the toddler.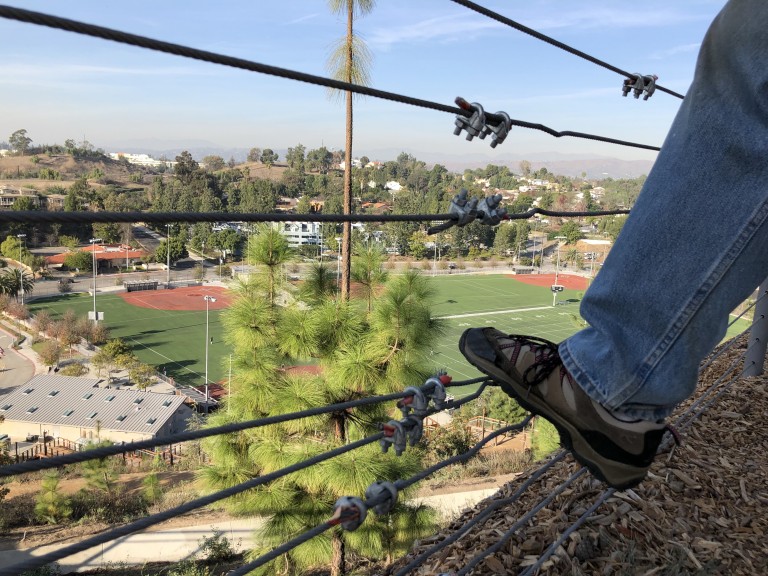 As usual, maintenance of  public property remains a challenge for the City. Loose ends are not their specialty.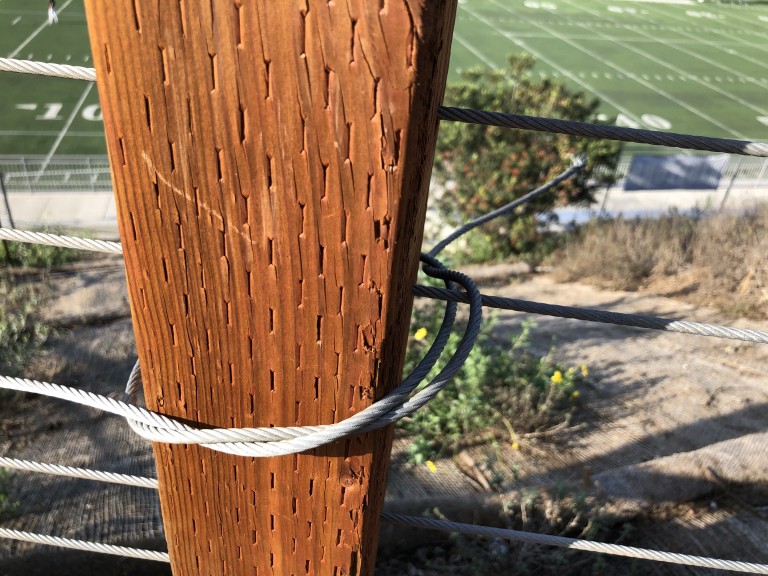 How hard is it to keep a tree alive? Don't bother asking. You won't get an answer.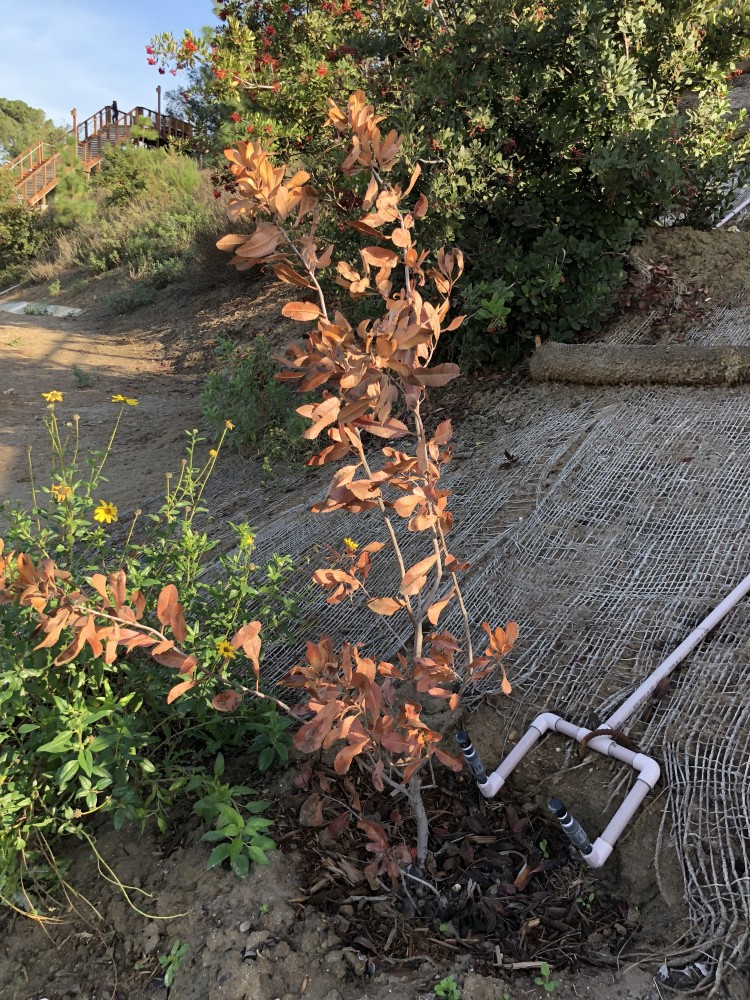 The effects of the inevitable pedestrian shortcuts betray both design and maintenance failure. It looked better on paper.
We have been assured by people who don't know what they are talking about that everything was just grand about this grand failure; but, the evidence did and still does point to the exact opposite: a project that suffered from fundamental design shortcomings, incompetent and careless construction, a construction manager whose only function seems to have been to cash our check, and inspectors who were (and probably still are) a disgrace to their profession.
As you can see driving up Harbor, the City is now building its splendid new entry to the park – including a bridge – costing millions and accomplishing nothing but wasting park construction resources. Apart from the obvious uselessness of the project I have to wonder if it will suffer from the same dereliction that informs the so-called "Pinewood Stairs." Nothing leads me to hope for the contrary.