In the last week or so Fullerton P.D. has been making it extremely clear that they take D.U.I.s very, very seriously.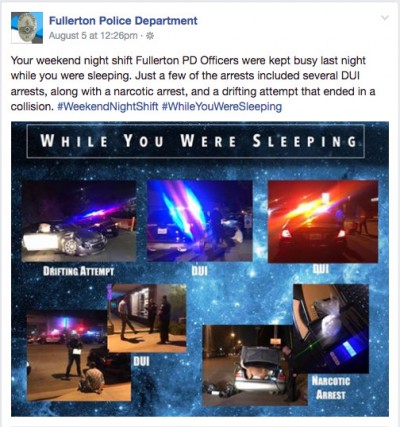 This isn't really news as the City Council regularly helps present M.A.D.D. awards to officers with the most D.U.I. arrests.
There is very little sympathy for people who make the stupid decision to drink or do drugs and then drive. This makes sense as when you do so you're putting not just your own life on the line but are risking the lives of anybody in your potential path.
The however, of course, is if you make such a colossally stupid decision and happen to work for the city.
Were drinking or drugs involved in the January accident and circumstances around the rolled Parks and Rec vehicle? To this day we have no information.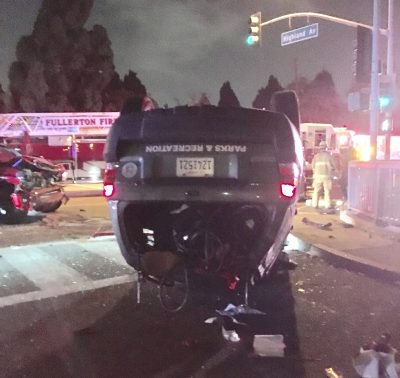 Better yet is if you happen to be one of the high priests of local government. City Manager perhaps. Then you can "take a wide turn" while smelling of alcohol with near impunity.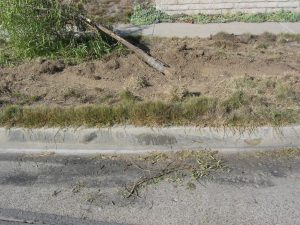 For those who may have forgotten, back in March Joe Felz was charged with one misdemeanor count of driving under the influence of alcohol and one misdemeanor count of hit and run with property damage. He was charged in relation to his 09 November 2016 accident where he "smelled of alcohol" after running over a tree. Instead of being cited or arrested he was given a chance to talk to the Chief of Police, Danny Hughes, before being given a ride home. Hughes also spoke to then Mayor Fitzgerald.
Thanks to denied Public Records Requests and the burden of suing to get information the city won't legally hand over we don't know who called whom that night or who ordered the cover-up and obstruction of justice. We don't know who arranged to let the City Manager escape the crimes that Fullerton P.D. and City Hall are ever so eager to wield against the commoners. What we do know is the following:
Joe Felz smelled of alcohol and hit a tree.
Felz went on leave for two weeks before vacating his position.
Felz then let his job with the city over "Personnel Matters".
Jennifer Fitzgerald had the sadz when he left.
The D.A. investigator in charge blew the whistle on a cover-up.
Felz's D.U.I. case has been postponed twice.
We find out on Monday if former City Manager Joe Felz will actually be prosecuted for the crimes with which he's been charged. We'll be watching to see if the District Attorney has any interest in actually prosecuting one of the aristocrats in our midst. More likely they plan to keep continuing the case in the hopes that anger subsides and the status quo of corruption can settle back into place. The worst thing that could happen to the Fullerton Police Department, and the sycophantic City Council, is for the truth to come out so the smart money is on a plea deal or a dropping of charges.
Something to keep in mind here is that our City Council has been silent on this whole fiasco. While it is true that the Felz case is still pending, 9 months after the accident, there is no such investigation going on with F.P.D. and the alleged cover-up. Nary a word has come from Council or the City Manager's office. This council, all 5 of them, are perfectly fine with police corruption and a total lack of oversight. They could have demanded oversight before hiring a new chief. Or before hiring a new City Manager. They didn't even bother to address the issue. These 5 are more worried about angering the F.P.O.A. campaign monster than doing the right thing. To add insult to injury the thin blue line would rather wallow in their own corruption than oust their "bad apples" once again proving that the whole bushel has rotted.
Nothing changed after Kelly Thomas died and nothing has changed after Joe Felz's wild ride.
We've been waiting to be proven wrong on this issue. We've been waiting for council to demand accountability. We've been waiting for the council to demand oversight. We've been waiting for the brothers and sisters in blue to step out of the shadows and tell the truth. For 9 months we've been waiting and it looks like we'll be waiting forevermore. For all of the pomp and circumstance about public service and the public good it is once again clear that our government institutions and those inside it are interested in anything but.