Last week Pacific Coast Homes, a subsidiary of Chevron Texaco, filed suit against the city of Fullerton for it's recent denial of the West Coyote Hills development project.
The suit was preceded by a claim for damages of "$1,000,000 plus" in which Chevron says Fullerton is responsible for breach of contract, breach of good faith and fair dealing, violating the civil rights act, and a few other things expressed in legal mumbo-jumbo beyond the vocabulary of this blogger.
If you feel like wading through it yourself, here is the claim and the complaint: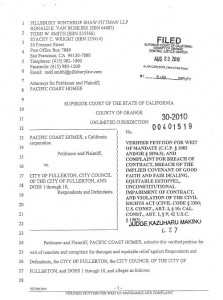 View the Coyote Hills lawsuit
So it looks like Chevron is attempting to apply pressure prior to bringing the project back in front of what will likely be a more favorable city council in 2011. I've also heard that the suit was preceded by Chevron making no-so-veiled threats towards a councilmember regarding future re-election possibilities. That's just not very nice.