Coyote Hills Development Denied
Shawn Nelson voted to kill Chevron's West Coyote Hills development – but not for the same reasons that Keller and Quirk-Silva noted.  At Tuesday's City Council Meeting Shawn Nelson said of staff, "It's like everybody got their Christmas list out."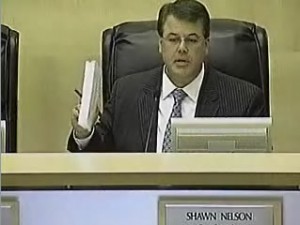 Nelson was referring to the extraordinary list of demands that the City of Fullerton has placed on the developer that include all-terrain vehicles, trailers, an interpretive center, school fees of more than $10 million, a $5 million endowment, and park fees.  Nelson said "There's only 760 units planned in this development and that would be $265,000 per unit.  And they haven't graded one spec of dirt, haven't put in a street, a sewer, a street light.  I'm embarrassed.  I mean that's shameful.  Whether you approve it or not, that's a problem."  He went on to ask, "How is that [list of demands] their [Pacific Coast Homes] or anybody's responsibility that comes to town?"
Nelson made it clear that he supports the rights of developers.  He said, "Chevron has a right to build."  But he was not happy that the development agreement showed up on his desk at noon, not leaving sufficient time to scrutinize the details.  One major concern was over water rights.  When he first took office, Nelson said he had inquired about other issues that have yet to be adequately addressed by Pacific Coast Homes, such as parking.
The councilman appeared to be most irritated that, "These people have been run through the ringer", referring to the developer, Pacific Coast Homes – a subsidiary of Chevron and the list of unreasonable demands by city staff.
Shawn Nelson is running for the Orange County board of Supervisor's 4th District seat vacated by Chris Norby after Norby's election to the California State Assembly.  To no one's surprise, Shawn Nelson is endorsed by Congressman Ed Royce and Assemblyman Chris Norby, among others.
Before the meeting was adjourned, Councilwomen Pam Keller made a lengthy statement that she would not be seeking reelection.