A Friend pointed out something that bears mentioning for those of us that have some sense of ethics but may be naïve when it comes to blogs and how some operate.
Did you know that Matthew Cunningham has another website besides the oh-so Mauve County?  It's Pacific-Strategies where he brags about "employing innovative social media strategies to advance your message and create community" and "influencing opinion leaders through via both new and tradional media".  Nice typo's Matt.  Clearly he is the superior communicator!  I'm not too sure what this clown is trying to say with this: "successfully guiding your projecting throuygh the government approval process" and "providing seasoned counsel to ensure your message is taken seriously by opinion leaders ad key decision-makers".  It is hard to take anyone seriously that brags about communication and swaying public opinion when the author can't even complete a sentence.  A wordsmith he is not but maybe a word-butcher.  Just imagine a game of scrabble with him.
Ah, but now Matt's "strategies" at Mauve County are clear!  He gets to be a paid consultant (I find it hard to believe that anyone would actually give him a dime) via one company, Pacific-Strategies, while he attempts in vain to sway public opinion on his Mauve site by "employing" those innovative social media strategies.  I speculate that those strategies include but are not limited to the hiring of extra bloggers to post pro threads for Cunningham's paid cause and then the twerp has these same extras jump in and lob personal attacks to discredit any opposition or support for their paid cause. "We're experienced with effective strategies for favorably influencing elected leaders, government officials, and community and opinion leaders—building coalitions and mobilizing opinion in support of your goals, and neutralizing critics."(http://www.pacific-strategies.com/collaboration/)  So his job is to NEUTRALIZE CRITICS!  If you pay him some money or do him a favor, he will NEUTRALIZE critics.  Is he talking about offing someone?  Bumping someone off?  Or just a shotgun approach for attacking anyone with a different opinion, especially one supported by facts?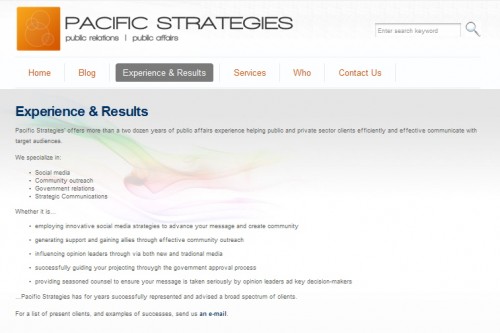 After reading these carefully crafted words from Matthew Cunningham own website, there should be no doubt in anyone's mind just how Red County operates under his direction and the truth behind Matthew Cunningham slanderous lies.  He is completely void of any moral or ethical foundation which a normal person might be grounded in.  In his own words, Cunningham says "More and more people get more and more of their information from new media such as blogs, Twitter and FaceBook, and your organization needs to engage them in those arenas. Properly used, new media tools powerfully enhance your organization's ability to not only communicate with your target audience, but build trust and community."  Building trust through outright lies and deception is usually called FRAUD. That is particularly bad when your own mission statement reads: "Red County strives to provide intelligent, well-informed insights into local political issues affecting the lives of readers in each market we serve. In striving to support the ideals of limited government and individual liberty, Red County will hold the mirror up to Republicans and Democrats alike."  Clearly, there is no mirror in the arsenal at Fraud County.
And as if that wasn't bad enough!  Anyone with their own website, including FFFF, can determine visitor's internet provider address much the same way we use caller ID.  If you are a genuine visitor and you leave genuine comments, no problem…unless of course you are on Cunningham's web site.  Bloggers on Blogspot.com don't normally have that level of access, so no need to worry about posting on those sites.  The real concern should come when a commentator dishes out insider information on a government agency and the head of that agency has the blogger in his back pocket.  Then the blogger gets to out the commentator.  It is not ethical to throw a genuine whistle-blower under the bus but we are not talking about an ethical person, now are we.   It is reminiscent of the reports of Cunningham outing of sex abuse victims.  I don't know if Cunningham was actually paid to out anyone, but the content of his other website begs the question.
There are a lot of talented people reading this who are much smarter than me and I encourage you to do some digging yourself.  After I did my own digging into this, I realized just how biased I have become against Red County and several of their resident (generally newer) bloggers.  Therefore, it is imperative that you check for yourself.  I'm no great sleuth like the other FFFF'ers but if we can shed a little light up this dark hole, all the better.
I would love to know the names of anyone who has ever contributed a penny to Pacific-Strategies and follow that paper trail.